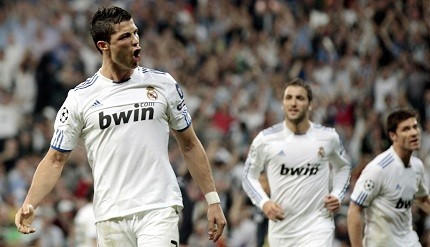 The pick of today's European football transfer rumours for 14 June 2011. Any transfer gossip surrounding Manchester United, Chelsea, Arsenal, Liverpool, Manchester City, Bayern Munich, AC Milan, Inter Milan, Juventus, Roma, Barcelona and Real Madrid will be covered here.
On the move
As you'd expect on a Tuesday morning in mid-June following a particularly lean period for British sports fans, transfer tell-all is fairly thin on the ground, what with the papers devoting the lion's share of their column inches to killer sharks in Cornwall, zombie attacks in Leicester, and egging further pressure on Andy Murray ahead of the start of Wimbledon.
That said, the Mirror has made room for the obligatory whispers linkingCesc Fabregas to Barcelona, a football club that is not prepared to let the small matter of limited funding curtail their spending on talent-they-used-to-own this summer. The Catalan side have scrawled some figures on the back of an envelope and valued the 24-year-old at £35m which, by complete coincidence, is all the money the club has to spend this summer. All things considered, young Cesc looks likely to play for Barcelona at some point or another in the next 1-15 years.
Charlie Adam's protracted exit from Bloomfield Road looks set to go ahead at some point in the next week. Blackpool value the Scot at £10m, but Liverpool will lodge a cheeky offer of £9m just to see how serious the club are. Talks with Adam are expected to start on Thursday, according to The Telegraph. Doubtless the club will then step up their search for another central midfielder just to make sure the position is covered.
Indeed, the Reds continue to be linked so vociferously to the same five players: the aforementioned Blackpool captain, Arsenal left-back Gael Clichy, Aston Villa's Stewart Downing, Ipswich forward Connor Wickham and Southampton starlet Alex Oxlade-Chamberlain that it makes our job easier to just list those five first up and then get on with it.
Moving on, it looks likely that Blackburn's Chris Samba, 27, will ply his trade elsewhere next season with both Spurs manager Harry Redknapp and Arsenal boss Arsene Wenger prepared to duke it out for the impressive centre-back's signature.
Also on the move is part-time genius Charles N'Zogbia who will be allowed to leave Wigan this summer. The £9m-rated 25-year-old is coveted by Arsenal, Liverpool and Tottenham, reports the Sun.
Chelsea's summer of spending looks likely to kick off with a deal for Neymar deal after the Blues declared they are ready for something "a little more serious", and will match Santos' £30m valuation of the Brazilian.
Meanwhile, over in Italy the level of excitment is significantly toned down, the pick of the news is that Napoli's Michele Pazienza will undergo a medical at Juventus on Thursday, according to his agent. The midfielder has already agreed terms with Juve and will become their third signing of the summer, following the captures of Andrea Pirlo and Reto Ziegler.
Idle speculation
With the flighty Carlos Tevez's future at Eastlands still undecided, Manchester City have opened talks with Udinese over a £27m deal for 22-year-old Chilean winger Alexis Sanchez, according to the Mail.
But Udinese have slapped a £31m valuation on the player, with the club's owner Gianpaolo Pozzo saying, "Sánchez? The right offer has yet to arrive, €35m is not enough for Sánchez. We already turned down a similar offer. A higher offer is needed."
All of which probably prices Barcelona and Inter Milan out of the market for this one, but with money as no object Manchester City could be a good bet for where this year's transfer target of choice will end up.
The Sun reports that Tottenham centre-back Younes Kaboul, 25, wants to quit White Hart Lane and join Marseille in an £8.5m deal.
Meanwhile, across North London, Arsenal are set to face a transfer fight with newly-rich Paris St Germain for the signatures of Lille ace Gervinho and St Etienne midfielder Blaise Matuidi, who are both 24. The Gunners are also in the hunt for £3.5m-rated left-back Alexander Milosevic, 19, who plays for Swedish side AIK Solna. Just the sort of signings, in fact, that will persuade Samir Nasri to jump ship this summer with Inter Milan having emerged as the latest club to eye up a move for the Arsenal midfielder.
Over in West London, Didier Drogba has emerged as a potential make-weight in Chelsea's bid to land £30m-rated midfielder Luka Modric, 25, from Tottenham, reports the Mirror. Although Italy still appears the more likely destination for the brooding Ivorian, with AC Milan interested.
The Italian giants are also looking into signing 28-year-old midfielder Michael Essien from Chelsea, with Wesley Sneijder, 27, moving in the opposite direction.
Staying put
In an unsurprisingly short-lived news-cycle, mild-mannered Madrid forward Cristiano Ronaldo has told Spanish radio station Cope, "I'm not going to City." In an "exclusive" reported in every other paper, The Sun reveals that the Portuguese international has dismissed talk of a £150m move from Real Madrid to Manchester City.
"If it was for money I would leave. The most important thing is the behaviour of the people and they treat me tremendously here and I am very happy in Madrid,"
And finally, despite missing out on Mesut Ozil last summer, the Metro reports Sir Alex Ferguson has made another enquiry for the tricky 22 year-old. But the German playmaker is going nowhere, insisting, rather too forcefully, that he has absolutely no intention of leaving Madrid anytime soon, thank you very much.