More than a dozen people were killed in Kabul on Tuesday (11 October) when a gunman wearing a police uniform opened fire on the crowd gathered at a Shia shrine. The people had gathered to take part in the festival of Ashura – a religious day of mourning observed in memory of the martyrdom of Hussein, a grandson of Prophet Muhammad.
Eyewitnesses told the police that the attack began just before 8pm local time (11am BST) on Tuesday and that there was an explosion followed by gunfire. No group has so far claimed responsibility for the attack.
The Afghan interior ministry said that 13 civilians and a police officer were shot at by the gunman. Sediq Sediqqi, spokesman for the ministry, said that about 36 people were wounded in the attack. Ministry of Public Health officials, meanwhile, said that 43 people were injured and were taken to various hospitals in the capital for treatment.
"People were gathered inside the shrine for worshiping when the attackers arrived, first they shot the policemen at the gate of the shrine and then they entered the compound," Reuters quoted Sardar Hedayat, an eyewitness, as saying.
Initial reports suggested that there were three attackers, but Sediqqi confirmed to the media that special forces that responded to the attack, found only one gunman at the shrine. The gunman was also shot and killed, he added.
Another eyewitness Jamshid Jan said that the attacker was dressed in police uniform. An angry crowd surrounded the body of the suspected and attacked it. Some even wanted to burn his body, but the police intervened and pacified the crowd.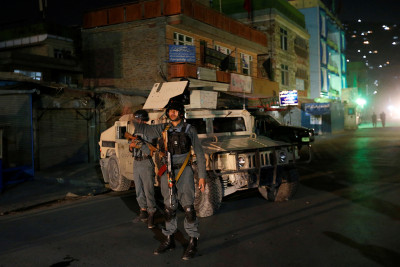 Reuters reported that a Taliban spokesman denied any involvement in the attack. It is not clear as to who was behind the incident. Meanwhile, Abdullah Abdullah, Chief Executive of Afghanistan, condemned the attack on the Shia shrine and vowed to "hold terrorists [and] their supporters accountable".
Earlier in 2011, about 80 people were killed when suicide bombers targeted Ashura prayers in Kabul and the northern city of Mazar-i-Sharif.