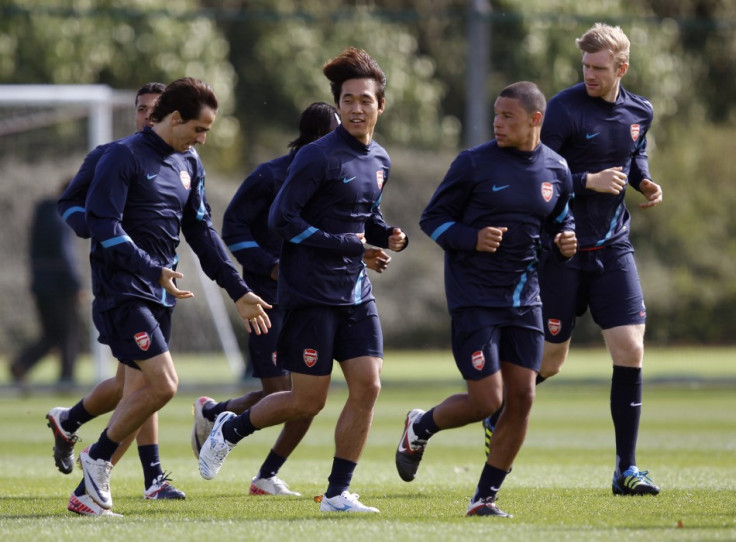 Alex Oxlade-Chamberlain has insisted that he made the right decision to move from lower league side Southampton to Arsenal in the summer, despite the youngster knowing his playing time would be considerably limited with an all-star Gunners squad.
Chamberlain has so far made five appearances for the club this season, and has scored two goals, including one in the Champions League group stage match against Olympiakos.
And while Arsenal haven't been able to offer the experience on the pitch that Southampton could, Chamberlain insists that he is exactly where he needs to be to get the best out of himself as a footballer.
"Is it best for me to be here? I think so," Chamberlain said.
"Since I've been here, the young boys get a lot of chances in the cups and it is a great place to be. You are always learning.
"When I came here, I didn't think I was going to jump into the squad straight away. Coming from Southampton, I played week in, week out. Signing here, I knew I wasn't going to be involved as much and I'd have been naive to think I would.
"But just being able to train with these players every day, listening to the manager and just being around Arsenal, I have learned so much.
"I wouldn't have changed anything for the world. The next step is to push on into the squad.
"At the same time, though, there is no rush. I trust the boss to progress me in the best way, he is a top man, very intelligent."
Wenger was willing to take a huge leap of faith by signing Chamberlain, with the Arsenal manager taking him on board for a fee of around £15 million, a record price for the Championship.
And so far the starlet has shown his worth, and his goal against Olympiakos was vital in helping Arsenal qualify for the next stage of the Champions League with a game in hand.
While the Gunners are now out of the Carling Cup, therefore affecting Chamberlain's ability to build up playing time, the club will no doubt have use for their summer purchase when the season gets closer to the business end and depth in the squad becomes of the upmost importance.