The sight of former Prime Minister Mahathir Mohamad, Malaysia's unyielding and longest serving leader, sat onstage with opposition politicians that he had had jailed during his 22-year rule at a citizen's congress last month was a curious and unexpected one.
The motley collection of politicians and social activists were united by a single aim – to get sitting premier, Najib Razak, to step down over allegations of corruption and mismanagement in state investment firm, 1 Malaysia Development Berhad (1MDB).
Najib chairs the advisory board of 1MDB which racked up more than 50bn ringgit (£9.1bn, $12.8bn ) of debt over six years.
"I am nervous to speak in front of the prime minister who was in power for more than 22 years. Twice I was jailed under ISA (Internal Security Act) during Mahathir Mohamad's regime," opposition Amanah Party president Mohamad Sabu told the congress, drawing loud laughter.
The ISA allowed detention without trial for up to two years and has since been abolished.
"But this is not about avenging the past. Should I be hitting out at a retired prime minister when I should be hitting out at the current leadership?" asked Mohamad, to loud cheers.
The 90-year-old Mahathir is spearheading an anti-Najib movement called Save Malaysia, saying the country will suffer if he continues to rule. Mahathir has also filed a suit against Najib in High Court for corruption and misfeasance in public office.
The 1MDB scandal has rocked the country and triggered investigations in at least eight countries, including the United Kingdom, United States, Switzerland, for possible money laundering, embezzlement and criminal mismanagement.
Last Thursday, a bipartisan Parliament Public Accounts Committee (PAC) report identified at least US$4.2bn of unauthorized or unverified transactions at 1MDB. The PAC recommended that 1MDB's former CEO Shahrol Halmi and other managers be investigated in a 106-page report. Sharol denied any wrongdoing.
"The PAC report raises more questions than it answers," said Kadir Jasin, a close associate of Mahathir.
Though the PAC did not implicate Najib in the scandal, the public remains sceptical.
"That billions in unapproved payments were made at all indicates corruption at the highest level. A chair who is unaware of the movement of that kind of money? I'm not sure that's believable," Elaine, a 29-year-old social psychologist and lecturer who declined to give her full name, told IBTimes UK.
"I think any politician embroiled in a scandal of this magnitude should at the very least take a leave of absence until they're cleared of any wrongdoing. The fact that Najib is still in his position and therefore able to influence the situation, whether directly or indirectly, makes any proceedings murky at best," she said.
Najib said action would be taken if any wrongdoing was uncovered at 1MDB in a speech at Invest Malaysia 2016 on 12 April. The premier hit out at the opposition, saying they made "wild allegations" about the fund and the economy.
"They have their own agenda and personal interests, which they have placed above the interests of the country," said Najib.
Jamal Yunos, a member of the ruling Umno party told IBTimesUK that the PAC had carried out a fair, comprehensive and sincere investigation.
"The PAC comprised MPs from the ruling coalition and the opposition. It did not implicate Prime Minister Najib. This will restore the PM's good name," said Jamal.
"For the 60% of the population who has been sitting on the fence all this while, they will return their support to the ruling coalition of the National Front (Barisan Nasional)," he added.
The Wall Street Journal reported last year that US$681 million was deposited into Najib's personal account shortly before the country's 2013 elections. The money is believed to have originated from 1MDB which moved through a complex web of transactions in several countries before arriving in his account. Najib claimed the money was a "donation" from Saudi Arabia and denied any wrongdoing.
"The 1MDB case will not rest unless the federal audit report is declassified and made public," said analyst Asrul Hadi Abdullah Sani of BowerGroupAsia (BGA), a business advisory firm.
The federal audit report was carried by the country's Auditor-General and has been classified under the Official Secrets Act 1972.
"By witholding the report, it appears the government is trying to protect Najib of any wrongdoing... the government's reluctance to release the report has raised many doubts and questions," added Asrul.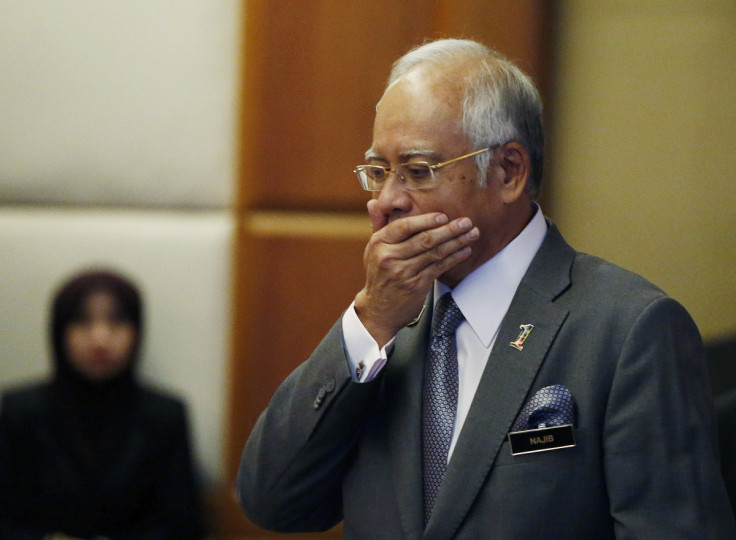 The 1MDB scandal has consumed much of Najib's attention and galvanised the opposition at a time of falling oil revenues in this oil-producing country. Despite Mahathir's success in bringing together a disparate opposition and the support by some senior Umno members, Najib is too entrenched in the system to be removed for now.
Malaysia's next general election is not due until mid-2018 and the ruling Umno party elections have been pushed back to the end of 2018, by Najib himself – in a clever move last year. Umno's party election is usually held every three years, with the next one scheduled around the fourth quarter of 2016. As such, he cannot be voted out.
"The opposition MPs will not get enough numbers to push for a successful vote of no-confidence in Parliament," said Mahathir's associate Kadir.
Najib's ruling coalition has a majority in the 222-seat parliament: "As such Najib is sitting well within Umno and the leaders of the component parties in the ruling coalition and he will last until 2018," said Kadir.
According to BGA's Asrul, Mahathir's collaboration with opposition figures has backfired.
"Mahathir has managed to alienate his supporters within the party when he decided to leave Umno (in February). It is now impossible for anyone (in Umno) to question Najib without being associated with the opposition especially the DAP," said Asrul, referring to the Democratic Action Party, the secular, Chinese-dominated party.
"It is unlikely anyone will challenge Najib (within Umno) as the supreme council is firmly behind its president. Najib will head into the 14th general elections with a united and focused Umno. Unless the opposition is able to get its act together. Najib will likely remain the Prime Minister after 2018," he added.
---
Amy Chew is currently based in Kuala Lumpur covering Southeast Asia. She was previously staff correspondent for Reuters, South China Morning Post, New Straits Times. She tweets @amyvoom
---