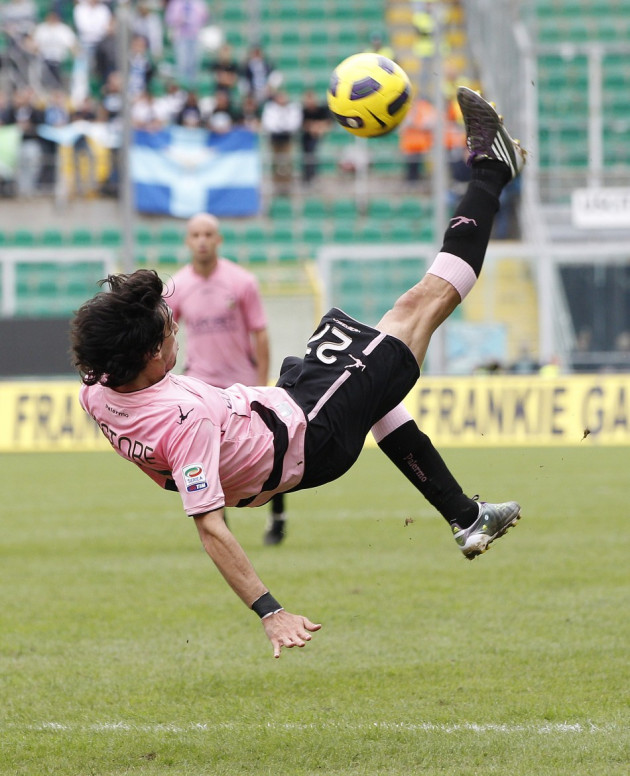 The pick of today's European football transfer rumours, news and gossip for 30 June 2011. Any transfer gossip surrounding Manchester United, Chelsea, Arsenal, Liverpool, Manchester City, Bayern Munich, AC Milan, Inter Milan, Juventus, Roma, Barcelona and Real Madrid will be covered here.
Premier League
Chelsea are set to spend, depending on who you read this morning, £30m or £45m on Argentina pretty-boy Javier Pastore, who's less-than-saucy nickname El Flaco was, unfortunately, not bestowed by Judy Murray. The arrival of the nippy midfielder seems to signal the end of their quest for Tottenham's Luka Modric.
Chelsea's pursuit of Neymar is already old news but that won't stop many a red-top from mentioning it anyway. Baby-faced new manager Andre Villas-Boas will use his Portuguese connections to prise Benfica wing-back Fabio Coentrao away from the gentle land but faces stiff competition from meddling Real Madrid manager Jose Mourinho.
Arsenal, Tottenham and Liverpool are all interested in a piece of Valencia winger Juan Mata. The Spain U-21 starlet would cost in the region of €25 million, a price that almost immediately rules out the Gunners but could interest Liverpool given their current profligate spending habits.
Arsenal aesthete Arsene Wenger faces a battle to keep hold of Cesc Fabregas and Samir Nasri with Barcelona closing in on both players. Wenger hopes the signing of Lille striker Gervinho will be enough to entice Nasri to stay; yes, indeed. If that ploy is unsuccessful he'll throw all his toys out the pram and offload Gael Clichy to Manchester City for the hell of it.
The Eastlands outfit are also planning a 'spectacular raid' for Everton defender Leighton Baines, who will cost them £20m according to The Sun. The former transfer heavyweights have also joined Tottenham Hotspur 'in the race' to sign highly rated Caen striker M'Baye Niang and Fiorentina winger Alessio Cerci.
Talking of highly rated youngsters, Thiago Alcantara is all set to sign a new contract with Barcelona, according to TalkSport. Manchester United and Arsenal will be disappointed, but hopefully, not that disappointed when they have a think about it.
La Liga
Not content with their involvement in one interminable summer-long transfer saga European champions Barcelona are doing their utmost to become involved in another; adding Alexis Sanchez to their 43-point 'to-do' list, which starts 'find list' before repeating the phrase 'Sign Cesc' on seven sides of A4, front and back.
A spokesman for the Catalan club claims a 'definitive offer' has been submitted to Udinese for the Chlie international. "We are waiting for a response from Udinese...we will not change the parameters indicated," he told Spanish news agency EFE.
Ya jah hah....Barcelona confident of landing Cesc Fabregas for £35m...who ha di rah.
Comedy villain Jose Mourinho will attempt to offload French journeyman Lassana Diarra to Manchester United, Juventus or Galatasaray for €15 million. The Real Madrid manager's cunning ploy consists mainly of post-dating YouTube clips of the French international's Portsmouth days and emailing the files titled "OMGzzz, check this out" to the three clubs. Marca claims Mourinho will use his ill-gotten gains to fund a deal for Benfica full-back Fabio Coentrao.
Meanwhile, in tedious Neymar-related news the Brazilian has told international team-mate Dani Alves at the Copa America, "I don't know anything about Barcelona. I will play for Madrid next season."
Serie A
We're struggling to remember a time when transfer news was so painfully thin on the ground and we'll sign off with news that AC Milan vice-president Adriano Galliani insists there is "zero possibility" the club will make a massive offer for Napoli star Marek Hamsik.