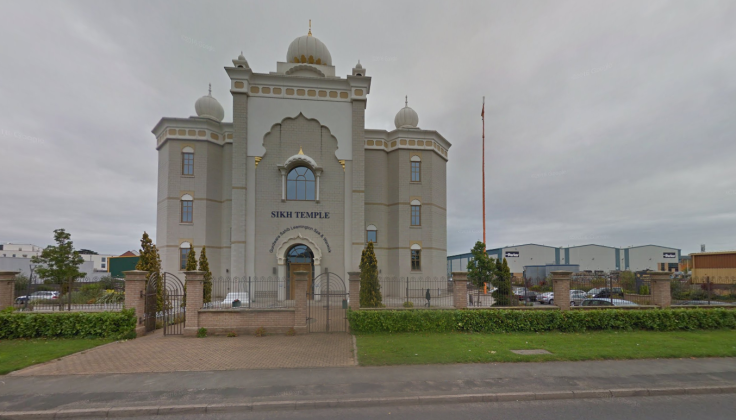 Some 55 people have been arrested after a row about mixed marriages, after an eight hour protest in a Sikh temple.
Police said a group of men, some carrying weapons many of which were ceremonial knives, entered the Gurdwara Sahib in Leamington Spa as a marriage between a Sikh and non-Sikh had been due to take place.
The group Sikh 2 Inspire and a separate group called Sikh Youth UK both said they staged a "peaceful protest".
Police officers and religious leaders were at the scene to negotiate a peaceful solution.
The incident was being treated as "an aggravated trespass" from "the escalation of a local dispute" rather than a violent incident.
Sikh Youth Birmingham posted a video on its Facebook page, claiming the video was taken inside the temple and shows its members engaged in a peaceful protest. Men can be seen sitting on the floor and chanting in the first video.
Another video showed armed police in the building, standing in a doorway. The officers were not holding their firearms at the ready.
The police force clarified that armed officers had been dispatched to the scene, because there were reports of men "who were in possession of bladed items" had entered the building.
Religiously observant Sikhs do carry a ceremonial knife – a kirpan – on their person. The kirpan is kept sheathed, except during certain ceremonies.
There are police cordons in place around the temple and we would ask that people avoid the immediate area while the incident is resolved.
Local religious strife
The temple's former treasurer deplored the group's action. Jatinder Singh Birdi told the BBC that a wedding between a Sikh and non-Sikh was set to take place.
He added that it has been an inflammatory topic among the local population, with some objecting to the temple being used for such ceremonies.
"There have been tensions that have been going on for a couple of years with some people objecting to mixed marriages in taking place in the gurdwara [Sikh temple]," he said.
"The general consensus is people are respectful of mixed marriages if the traditions are respected," Birdi added. "Nothing has happened on this level before.
"This is meant to be one of the happiest moments of somebody's life – it shows a lack of respect."