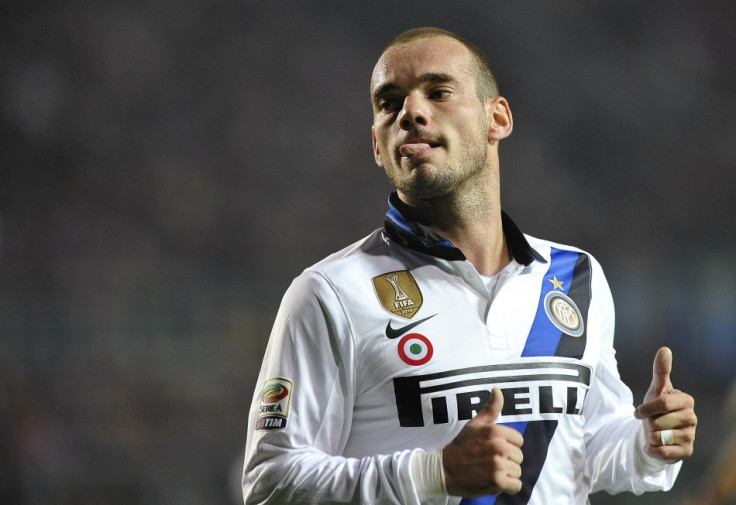 Wesley Sneijder 'idolises' Manchester United, according to Dutch football pundit Marcel van der Kraan, with the playmaker still being connected to a possible move to the club in January.
Sir Alex Ferguson insisted during the summer that a deal wasn't possible for Sneijder, with his wages of £200,000 a week said to be the main stumbling block in the playmaker making a move to Old Trafford.
After Paul Scholes retired from the club at the end of last season, United have been connected to numerous midfielders, but Ferguson maintained a replacement wouldn't be sought. Though after bowing out of the Carling Cup to lower league side Crystal Palace, and to Basel in the Champions League group stages, it has become apparent that the side need to bolster in January.
And with a lack of creativity in their midfield, Sneijder would seem just the ticket to success for the club, and van der Kraan has revealed that he would still move there if United made an offer.
"We think Wesley Sneijder would love to join Manchester United," he told Talksport.
"He cannot go against the club Inter Milan to tell the fans, look I want to leave, but we know, we're close enough to Wesley Sneijder, that he idolises Old Trafford and Sir Alex Ferguson.
"He thinks it's a super team to play for and if there is a chance in January where United think they have to bring creative players to the squad, then he will jump at it."
Sneijder has insisted during this campaign that he is planning on winning more trophies in his career, but with Inter Milan currently struggling in 16th place in the Serie A table, the possibility of success is looking unlikely for the star this season.
If he were willing to take a pay cut, United might be more willing to do a deal in January, though his £35 million fee would be an even bigger worry than before, considering the Red Devils stand to lose £20 million in Champions League revenue after being knocked out of the competition in the group stages.
A cheaper option would appear to be Borussia Dortmund star Mario Gotze, who is coveted by many top teams but would only cost around £30 million and have far lower wage demands than Sneijder. But Sneijder's experience would be like gold dust at United, who will need a player who can immediately start delivering for the squad if they're still on the trail of title leaders Manchester City.