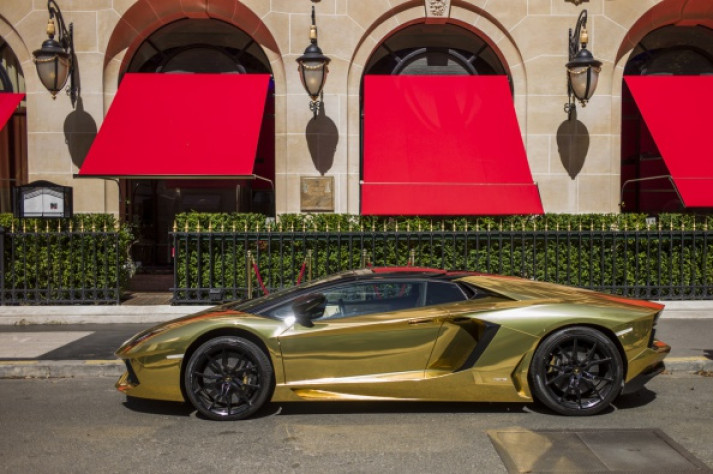 It's possibly the most expensive car in the world.
Valued at £4 million, the gold Lamborghini Aventador has been spotted cruising the streets of Paris ahead of fashion week.
The supercar was parked outside the Plaza Athenee palace hotel, on the luxury Avenue Montaigne
With the ominous 666 number plate, the gold-plated vehicle, which boasts a 6.5-litre V12 engine delivering 692 hp, is believed to be from Saudi Arabia.
Its owner is most likely a wealthy playboy or one of the super rich Arabs who move away to Europe to escape the Middle East's searing summer heat in their tailor-made versions of famous models from car manufacturers such as Lamborghini, Ferrari, Bugattis and Bentley.
Last year, a model gold Lamborghini Aventador went on display at a showroom in Dubai to mark the manufacturer's 50th birthday. The gold vehicle had a price tag of $7.5 million, making it the world's most expensive model car.
The 1:8 scale replica was a prototype for a model that will be cast from a block of solid gold.
The model was designed by German mechanical engineer Robert Gülpen and sculpted from the same carbon fibre used to make Formula One cars.
Speaking about his gold supercar Mr Gülpen said: "I wanted to do what no-one else has done before, to build a model car that is an "icon within an icon" I wanted to create a tribute to the legend of the automobile."
LAMBORGHINI AVENTADOR LP 700-4
Top speed: 217mph (350kph)
Acceleration (0-62mph): 2.9 seconds
Seats: 2
Miles per gallon: 17.7mpg
Price: Around £300,000