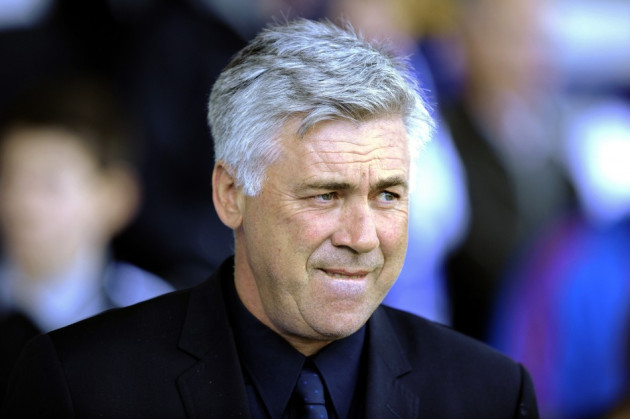 The pick of today's Premier League, Serie A, La Liga and Bundesliga football transfer rumours, news and gossip for 4 October, 2011. All the latest transfer rumours surrounding Manchester United, Chelsea, Arsenal, Liverpool, Tottenham Hotspur, Manchester City, Bayern Munich, AC Milan, Inter Milan, Juventus, Roma, Barcelona and Real Madrid will be covered here.
Carlo Ancelotti has added his name to the list of managers in contention for the Arsenal job. Is it a list if it's just your name, Carlo?
The former Chelsea manager, who was sacked by the club this summer, revealed he has "a strong will to remain in England".
Pressure on Arsene Wenger intensified at the weekend after his side slumped to their fourth defeat of the season.
"It's evident that Wenger's bench is wobbling and that in several months time, an English coach will be appointed to replace Capello in the national team, which will free up a place in a club," Ancelotti said.
Meanwhile, Gareth Bale has stuck his two cents into the mix regarding the Gunners' recent form.
The Spurs midfielder reckons the sale of Cesc Fabregas and Samir Nasri has caused serious damage to Arsenal's hopes of finishing in the top four.
"Arsenal have lost a few players, which makes them more beatable I think as that has damaged the way they play," Bale said insightfully.
"We exposed that. I think keeping your best players is a massive thing. They are used to how you play and what you do. It is vitally important to do that and build your team around them."
Up north, Newcastle will reopen negotiations for Sochaux striker Modibo Maiga in January, according to the Mirror.
The Mali forward has expressed his frustration at the opportunities available in the French league and has reiterated his desire to leave in the next transfer window.
"I have had enough of being booed by supporters right now, but anyway it does not stop me scoring goals for the club and making them happy," he said.
"I scored a double for them [at the weekend]. I had two chances on Saturday against Toulouse, two goals, just to thank them.
"Newcastle? They are a very good club; I will not finish my career in Sochaux if I am scoring every week - that is the reality of football."