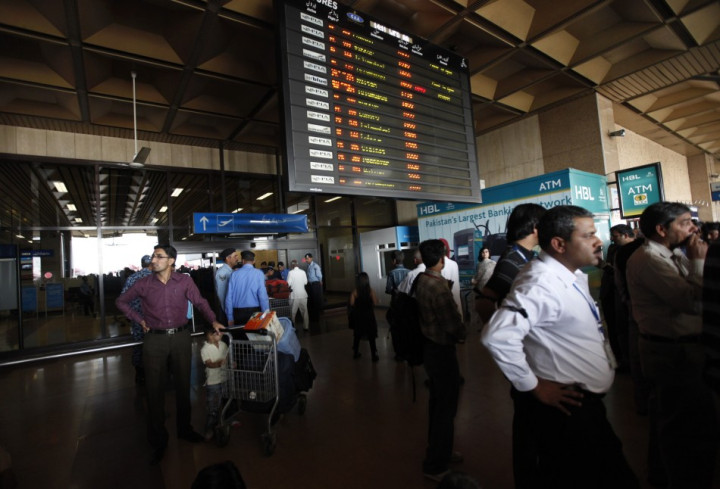 According to latest reports from Pakistan, at least nine people are dead after armed gunmen attacked Karachi's international airport.
The victims of the shooting include mostly security guards from the Airport Security Force (ASF) but also airline workers and terminal staff. At least 14 others have been wounded.
Four of the attackers are also dead after reports of suicide bombings.
According to Pakistani media reports, between four and 10 gunmen armed with automatic weapons hurled grenades at Jinnah International Airport's old terminal.
Senior police official Rao Muhammad Anwar told Agence France-Presse: "Exchange of fire is continuing. We don't know the exact number of the attackers."
According to Pakistani news channel Dawn, the gunmen had infiltrated the area from the Fokker Gate using forged identity cards.
Security personnel have surrounded the airport and sealed off roads, with all operations at the terminal suspended while incoming flights are being diverted.
A civil aviation authority spokesman said: "All flights destined for Karachi have been diverted to other cities."
BREAKING: Extremely huge fire has raised all of a sudden at #Karachi Airport. Huge clouds of smoke can be seen too. pic.twitter.com/5CP3yWUKFx

— Wajahat Kazmi (@kazmiwajahat) June 8, 2014
Staff are being evacuated from the airport as smoke is reportedly billowing from the terminal where an aircraft on the tarmac is said to be on fire.
Describing the scene, Sarmad Hussain, an official with Pakistan International Airlines, told AP he and a colleague escaped by jumping from a window. "I was working at my office when I heard big blasts - several blasts - and then there were heavy gunshots,"
A correspondent for Dawn news, Wajahat Kazmi, has posted images of security personnel who have believed to have completely surrounded the airport.
"Terrorists were carrying suicide jackets, large amount of arms, ammunition and explosives when they entered #Karachi Airport. !#PakArmy helicopters and fighter jets are keeping surveillance over the #Karachi city," he tweeted.
BREAKING: Huge number of armed #PakArmy personnel have surrounded #Karachi Airport completely! pic.twitter.com/3aicWR4lfU

— Wajahat Kazmi (@kazmiwajahat) June 8, 2014
Al Jazeera's Kamal Hyder said: "Apparently they was gunfire for at least an hour and then it died down, but we have reports now that it has resumed. The fighters have taken strategic position possibly inside the planes parked inside the airport."
"This is not the first time, there have been two major attacks in the past, one in Karachi and another in Kamra airbase, there was another attack on Peshawar airport which was foiled," added Hyder.
Dr Simi Jamali told Al Jazeera that at least five people, including three airport security force personnel and two Pakistan Airline employees, had been brought into Jinnah hospital from the airport.
The army has reportedly been dispatched to the scene.
The attack happened at a terminal normally used for VIP flights.
Pakistan has been fighting an Islamist insurgency for more than a decade, with the Tehreek-e-Taliban Pakistan the main group.
There is no indication yet who is responsible for the attack.