$43m cash found in filing cabinets of 'empty' Lagos flat by anti-corruption investigators
Vast sum of money was found wrapped in sealed bundles and hidden behind wardrobe panels in Nigerian city.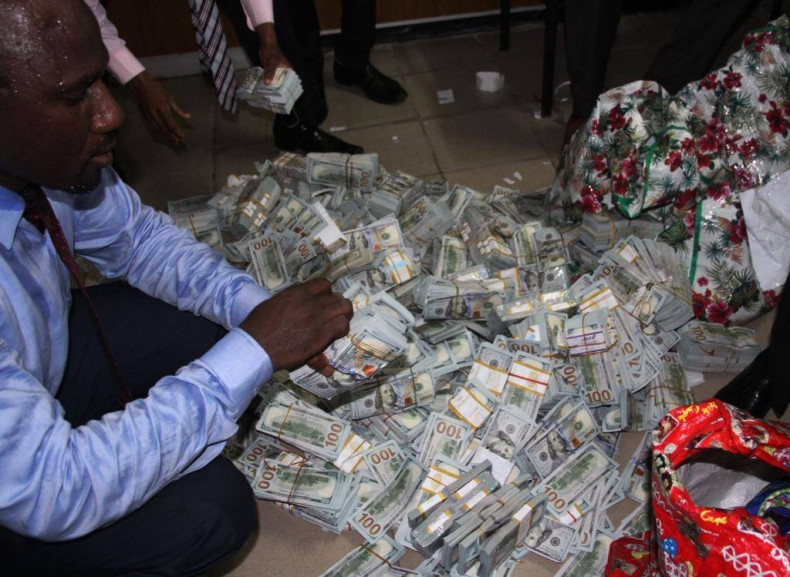 More than $43m (£34m, €40m) in cash has been found by anti-corruption investigators hidden inside a flat in Nigeria's largest city, Lagos.
Officials raided the seventh-floor apartment on 12 April, following what they said was a tip-off about a "haggard-looking" woman wearing "dirty clothes" who was taking bags in and out of the property.
The vast sum of money was found wrapped in "neatly" sealed bundles inside filing cabinets said to be hidden behind wooden panels of a wardrobe.
On top of the US notes, some £27,800 and N23.2m (£58,600, $73,300) was also discovered during the raid by the Economic and Financial Crimes Commission (EFCC).
The money is believed to be from unlawful activity but no arrests have been made, the agency said.
Guards to the apartment block, in the city's affluent Ikoyi area, told investigators that no-one lived in the flat, but a source reported that a "woman usually appeared on different occasions with 'Ghana Must Go' bags".
"She comes looking haggard, with dirty clothes but her skin didn't quite match her outward appearance, perhaps a disguise," the source was quoted as saying.
The agency said: "Monies were found in two of the four-bedroom apartments. A further probe of the wardrobe by operatives in one of the rooms, was found to be warehousing three fireproof cabinets disguisedly hidden behind wooden panels of the wardrobe."
The EFCC said the money will become "subjects of litigation" with the courts determining whether to issue a final forfeiture order.
"When this happens, the monies become the property of the Federal Government and by extension, that of Nigerians... The Federal Government in its wisdom will then utilise these monies in the best interest of Nigerians – Health care, Infrastructure etc." it wrote on Twitter.