Fourty-eight fishermen from Nigeria on their way to Chad to buy fish have been ambushed and killed by militants from the Islamist terror group Boko Haram. Although the attack took place last Thursday details have only just come to light due to the area's secluded location and because Boko Haram often topples mobile phone masts to hinder communications.
"Scores of Boko Haram fighters blocked a route linking Nigeria with Chad near the fishing village of Doron Baga on the shores of Lake Chad on Thursday and killed a group of 48 fish traders on their way to Chad to buy fish," said the head of the local fishsellers' association Abubakar Gamandi.
The fishermen had their arms and legs bound by the militants. Some had their throats slit and all were then thrown in Lake Chad where they drowned.
"The attackers killed their victims silently," said Gamandi, "without the use of the gun to avoid attracting attention from the multi-national troops."
Gamandi was referring to troops from Nigeria, Niger and Chad, the Multi-National Joint Task Force (MNJTF), based at a military base in Doron Baga. In Borno's capital Maiduguri a Nigerian military spokesman appeared to shift responsibility to the MNJTF.
"We heard of the attack near Doron Baga, but we don't have any details because the area falls under the operational jurisdiction of the MNJTF," the spokesman was quoted as saying.
This was the second deadly attack by Boko Haram – whose name means "Western education is forbidden"– in two days.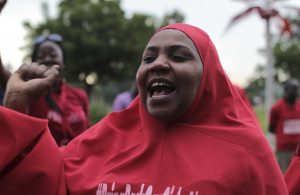 On Wednesday 45 were killed when gunmen attacked the village of Azaya Kura, also in the state of Borno.
Some victims there also had their hands tied before having their throats slit, apparently in retribution for an incident where villagers pointed out four members of Boko Haram to the local military who shot the militants dead.
Thousands of people have died and hundreds of thousands fled the region since Boko Haram started its campaign of violence in 2009.
Earlier this year the group abducted 276 schoolgirls from a school in Chibok and sold them into slavery. The group briefly captured the whole town earlier this month before being forced out.
However, Amnesty International says the army are also guilty of atrocities, including the massacre of some 600 people in Maiduguri following a Boko Haram attack on Giwa barracks in March.