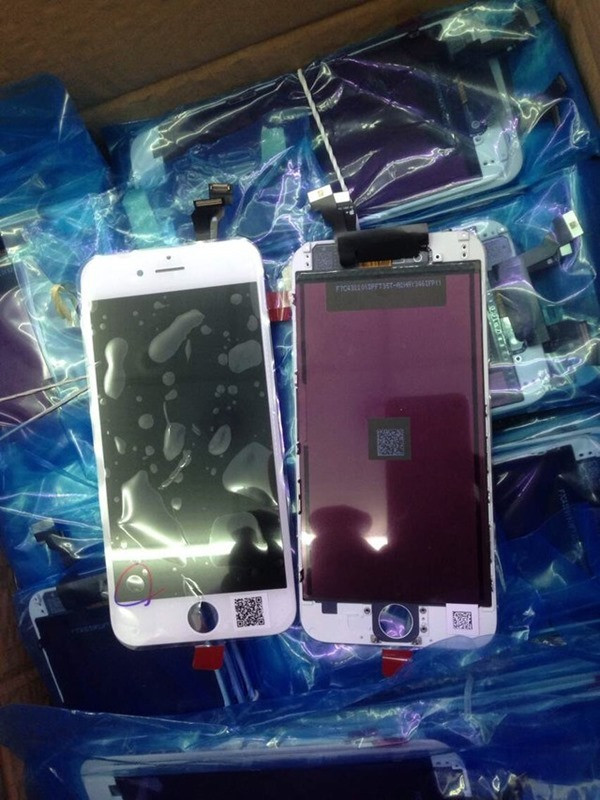 The 5.5in variant of the highly-rumoured iPhone 6 handset returns to the spotlight, as freshly leaked photos via Apple Daily (Google translated) throw some light on its wider display panel and confirm a massive 2915mAh battery as depicted in the images of the handset's internals.
The first leaked screenshot (above) portraying the side-by-side comparison of display panels for the 4.7in model and the 5.5in model does not actually convey the size difference, but clearly shows a purple tinted display on the larger variant.
According to Apple Daily, the larger 5.5in model will be named "iPhone 6L" and pack a powerful 2915mAh battery, given its bigger form-factor. On the contrary, the smaller 4.7in iPhone will be called iPhone 6.
This theory of naming convention actually contradicts earlier rumours wherein upset Apple executives suggested that the next-gen iPhones would not carry the iPhone 6 moniker.
It is not yet clear if the bigger battery would actually translate to longer battery-life on the 5.5in model, as it is rumoured to ship with a more powerful A8 processor and a larger display built from highly scratch-resistant sapphire crystal.
As far as the design is concerned, the iPhone 6L is likely to port a design similar to the 4.7in variant with thinner and more rounded edges.
With more leaked internal component images of both the 5.5in and the 4.7in models of new iPhones surfacing online, it is suggested that these models are already into mass production.
Check out the pictures of the leaked internals showing display panels, logic boards and battery units for both the handsets (below):