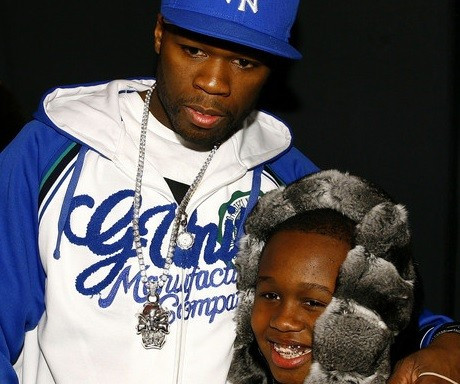 50 Cent allegedly abused his 16-year-old son in a string of profanity-filled text messages, it has been claimed.
According to RadarOnline.com, the rapper turned businessman called his son Marquise a "sh*thead", "motherf***er" and "f***ing stupid" during the hour-long exchange.
50 Cent, whose real name is Curtis Jackson, is said to have become angry when his son refused to open the door to him during a custodial visit.
Throughout their conversation the 38-year-old demands proof that he is his son and tells the youngster to "f*** you stop texting me" and "delete my number".
As his rage mounted he allegedly wrote: "I need a blood test cause that d*** sucking b***h you call mom was f***ing the hole time [sic].
"I don't have a son any more."
RadarOnline claimed the texts had been verified and that the phone number was registered to G-Unit Touring, the record label created and owned by 50 Cent.
The hip-hop star and Marquise's mother, Shaniqua Tompkins, are embroiled in a bitter custody battle over the boy.
Earlier this year, he issued with a cease and desist order to prevent her appearing on Starter Wives. He took the legal action allegedly out of fear that she would tell all about their relationship.
The leaked texts emerged just days after the star was arrested on domestic violence and vandalism charges following an alleged row with ex-girlfriend, Daphne Joy.
He is accused of attacking the former model - who is mother to his other child-and smashing up her apartment.
Abusive text extract
50: Hey I'm outside the house at the front door. I came to the front door then lights went off. What's up?
Marquise: U lying? U outside? Lol. Lol, u fronting [Misrepresenting yourself].
50: I saw you looking out the window. Good luck in life. Your gonna need it.
M: Lol u fronting hard body now, how u going to see me when I'm in the basement?
50: F**k you. You are your mother's child.
M: Lol, why would u lie about that lol?
50: I need a blood test cause that d**k sucking b***h you call mom was f**king the hole [sic] time. I don't think you're funny at all. I drove out here for nothing.
M: Pops, ur trippen [tripping] now. I know u lying bc [because] u [didn't] even call me to go outside.
50: Are you f**king crazy? I don't have time to play, boy. I told you I would come see you. I came, motherf**ker start turning lights out and looking through the blinds. Are you f**king stupid? F**k you to. You, your mother and your sister, f**k y'all.
M: I might [be] dumb, come thru then, no need to get upset. Stop by and say hello to ur son.
50: What the f**k are you talking about? I'm not f**king with you. After this I leave [for] Atlanta in the morning.
M: So come thru then.
50: F**k you.
M: No need for all that.
50: You are bigger enough to know better so f**k you stop texting me.
M: Ight [Allright].
50: Tell your mother she won. She has you and I'll make another. I will have nothing to do with you. Don't text me ever again.
M: U keep texting me lol.
50: It's cool. I will never go out [of] my way again. You disrespectful little mothe f**ker.
M: Lol u never do. I don't know no father that doesn't even call [their] son for his birthday or get him a gift for his b-day or Christmas.
50: You are your mother's child, I don't have a son any more. F**k you. All you want is a gift like your mother and your ungrateful sister. Delete my number. You never call. What the f**k ,I'm supposed to call you to give you something sorry?
M: Well if u feel that way, I don't care about no gift, it's the thought that means the most, remember this: money ain't everything. I'm tired of calling u, why don't [you] call me and please I can't wait to hear this excuse...