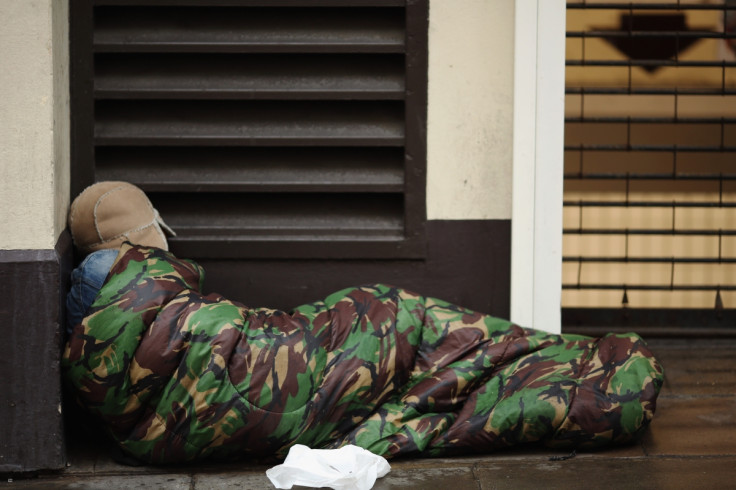 Nearly 1,000 people slept rough in London on a single night in Autumn 2016, according to government figures. The number of people sleeping on the capital's streets has more than doubled in the last five years
Some 914 people were recorded as sleeping rough in London on a snapshot night last Autumn – up 3% from 2015 and 114% from 2012 when just 428 people slept without a roof over their heads.
James Murray, London Deputy Mayor for Housing and Residential Development, said: "The figures we use in London show that rough sleeping continues to rise in the capital, which is shameful in one of the richest cities in the world."
More people slept rough in Westminster – where one bedroom flats sell for millions of pounds – than any other London borough or city in England. Some 260 people slept out on the streets of Westminster during a single night last Autumn – up 50% from six years ago. For scale, this is a larger figure than those sleeping rough in the entire city of Manchester, who numbered 78 in 2016.
A Westminster City Council spokesperson said: "Nobody should have to sleep rough, which is why Westminster City Council spends over £6.5m a year on rough sleeping services.
"We have a no second night out policy to help people off the streets as soon as they arrive. The challenge in central London is a unique one, only 23 of the 1525 new rough sleepers in 15/16 seen bedded down on the street recorded their last home as being in Westminster.
In Autumn 2010, only 10 London boroughs counted 10 or more rough sleepers on a single night; last year 25 of them did. Murray pointed to new plans drawn up by Sadiq Khan which will see a further £50m ($63m) invested in places for homeless people moving on from hostels and for refugees.
The number of rough sleepers in the rest of England, on a single night in Autumn 2016, was 3,170 – up 21% from the previous year. In the whole of England the figure was 4,134, up 16% from the previous year.
In 2010, a total of 1,768 people spent the the night under the stars according to data from the 326 local authorities in England. This means that in just six years the number of rough sleepers across the country has risen by 134%.
Interim CEO of Shelter Graeme Brown said:"The shocking rise in rough sleeping is a shame on this country. But while it's the most visible manifestation of homelessness, unfortunately it's only the tip of the iceberg. Many more thousands of people who we don't see on the streets, including families with children, are hidden away in emergency B&Bs, hostels and on friend's sofas.
"The lack of affordable homes coupled with cuts to welfare have led us to this tragic situation. Until the government provides more homes that people on low incomes can actually afford to live in, the problem will only get worse."
In 2016, Croydon had 68 rough sleepers – more than any London borough other than Westminster while Redbridge had the third most with 59. At the other end of the rankings, Barking and Wandsworth recorded only five rough sleepers while Bromley counted the lowest total, just three.
People from other EU countries made up 31% of all rough sleepers in London compared with just 2% in the rest of England.