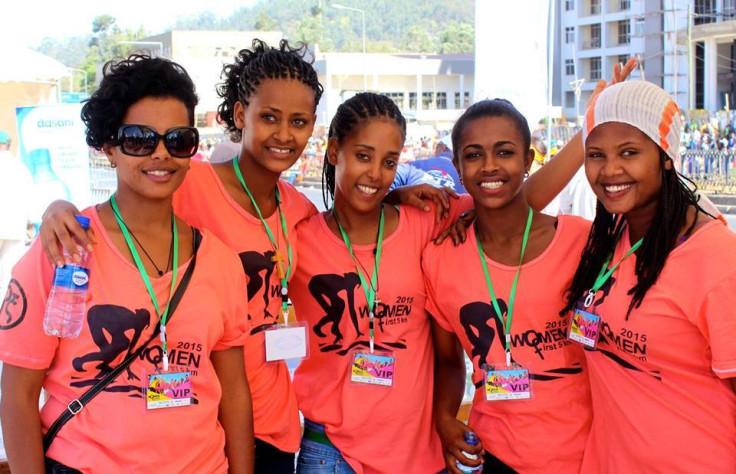 British taxpayers will no longer fund Ethiopia's version of the Spice Girls, it has been confirmed.
Yegna, a five-strong girl band, initially received £4m ($4.92m) from the Department of International Development (DfID), and was awarded another £5.2m in 2015 which was due to run until 2018.
The funds were awarded as part of a bigger project, titled Girl Effect, aimed at empowering women in Ethiopia.
However, after a public outcry, Department for International Development Secretary Priti Patel has announced funding for Yegna has been scrapped.
In a statement released by her department, a spokesman said: "We have taken the decision to end our partnership following a review of the programme.
"Empowering women and girls around the world remains a priority, but we judge there are more effective ways to invest UK aid and to deliver even better results for the world's poorest and value for taxpayers' money."
Any of the £5.2m grant not already spent will not be paid out, added the statement.
A total of £38.9m was earmarked for the entire Girl Effect project, of which £27.1m had been spent by the end of 2015, reported the Daily Mail. A further £11.8m was signed off in 2015 for another three years, but it is not clear how much of this has been spent.
Of the cancellation, Conservative MP Andrew Rosindell said: "This is a victory for the UK taxpayer and common sense by Priti Patel in making sure that British money is not squandered."
Fellow Tory MP David Nuttall said: "I'm glad to hear that the government is listening but it doesn't mean that everything is now fixed. We must continue to ensure that taxpayers get real value for money.
"Charity starts at home and while taxpayers understand money needs to be spent on international aid for famine and the neediest parts of the world, this a good example of where money was not being spent in this way."
In a statement, a Ukip representative linked the foreign aid budget to the crisis in the NHS.
Two patients died after long waits on trolleys and a third was found hanged, in a suspected suicide in Worcestershire Royal Hospital earlier in the week. Also, on 7 January, the British Red Cross declared the state of the NHS a "humanitarian crisis".
Lisa Duffy, Ukip's spokesperson on international development, said: "It is tragic that this woman died whilst waiting for a bed to become available. Our government needs to look at the amount of money wasted on aid while home priorities are short of cash.
"By reducing the foreign aid budget we can look after the priorities here in our country whilst still supporting those most in need abroad."
Yegna, which means "Ours" in Amharic, was founded in 2013. The group, which has its own talk show and radio programme, describes itself as "a band designed to reframe the value of girls in Ethiopian society by catalysing conversations amongst girls, boys and their communities".
In a statement on the Girl Effect website, a spokesman said: "As the UK's Department of International Development today advised us of the conclusion of its work with Girl Effect, we would like to highlight the impact of Yegna on millions of people in Ethiopia and the new knowledge we have gained through our work together."
The statement added: "Yegna is only one example of Girl Effect's work, and the change we are unleashing across all corners of the globe. In four short years, we have achieved irreversible momentum. Change that has begun in this generation will continue into the next, and all generations to come."