The 7/7 bombings didn't just change the lives of the victims and their immediate families. The events have touched everyone in London through the effect they continue to have on the way the city is designed.
Each new Crossrail and remodelled Tube station, as well as countless other outdoor public spaces, bear reminders of 7/7 2005, when four suicide bombers killed 52 and injured nearly 800 on London's transport system.
"One thing that we now look at around counter terrorism is use of materials that don't shatter in a blast," said Phil Bennett, the principle crime prevention design advisor for the British Transport Police.
"Architects love glass," he points out — just look at the recently redesigned King's Cross station finished in 2013. But there are different types of glass, like one with a plastic interlayer.
"That would hold together during a blast," said Bennett, preventing the panes from shattering and becoming pieces of shrapnel. Durable ETFE plastics are another popular material that don't shatter and stand-in for glass and other materials. Its most obvious use is in the dimpled outer shell of the new Canary Wharf Crossrail station opened in spring 2015.
The walkways and passages of new stations aren't as tight as older ones. The redesigned Tottenham Court Road station, opened in January 2015, is spacey compared with its predecessor. This manages both an increasing number of passengers and crime as well.
The station has more entrances and exits, wider walkways helping more people to get out faster in an emergency. "It helps in terms of crowd density," said Bennett. "If you haven't got the crowd, you lessen the chance for pickpockets and sexual offences. The lines of sight are better for people."
On the Metropolitan and Circle lines, new walk-through carriages have been designed with the lessons of the past in mind. "People can move quite easily," he said. "You can't really move down the old carriages." The older design hampered people as they tried to escape tube carriages damaged by the bombs on 7 July 2005.
"I think that any incident from 7/7 through to the failed attack at Glasgow airport becomes part of the risk assessment process," said Bennett, pointing out that blast engineers are now used throughout the design process of public transport projects. Additional security measures are now baked in to new buildings everywhere.
"High security is now a pre-requisite of planning permission for all new developments, through a government backed design policy called Secured by Design," writes Anna Minton, a reader in architecture at the University of East London and author of a 2012 paper titled Fortress Britain: high security, insecurity and the challenge of preventing harm.
Take the US embassy rising at Nine Elms, expected to open in 2016. A water feature at the front of the building — essentially a glass cube raised on stilts — acts as a moat. Landscape architects have designed concentric half circles of earth to make natural obstacles around the back of the building.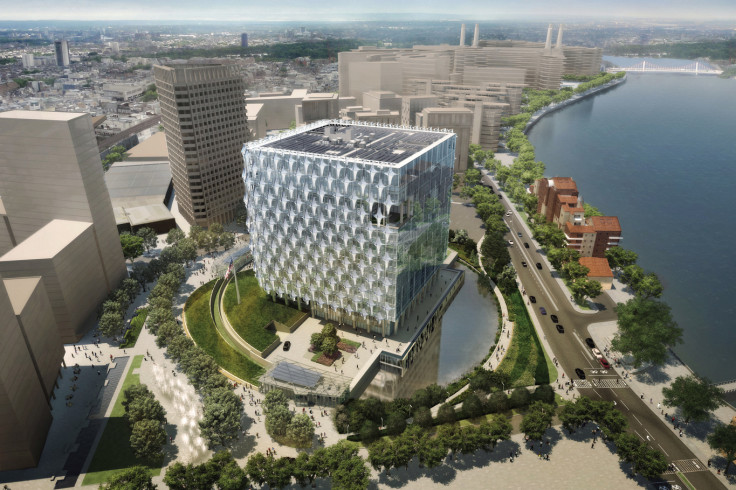 These are just some of the architectural features that have changed. There are new technological innovations behind the scenes too. A description of the new Tottenham Court Road station makes clear that "new CCTV cameras" have been installed.
"There's lots of security companies out there, and CCTV companies, trying to develop news ways of detecting behaviours that might be deemed to be suspicious," said Bennett. "There's lots of technology out there undergoing research and development".
There will be technologies and new practices getting developed in the background, said Bennett, but this is all about buildings and public spaces "being built for the future."
Read more: 7/7 London Bombings 10 Years On commemorative magazine