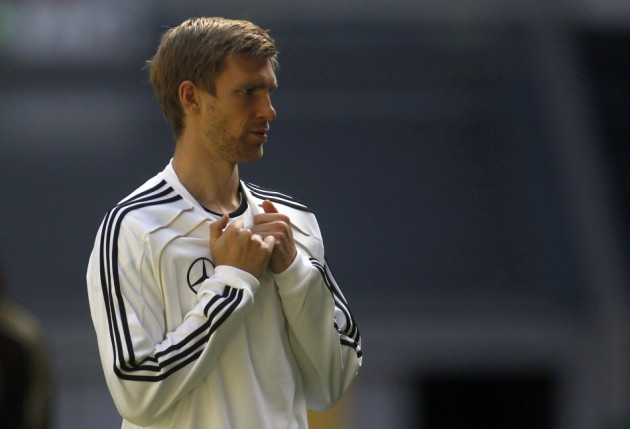 New Arsenal signing Per Mertesacker has revealed he is both nervous and excited about meeting his new teammates after the German defender said goodbye to his friends and family in Bremen.
The 26-year-old will join up with his new club for the first time on Thursday, having been on international duty since his deadline day transfer last week.
"It is exciting," he told Germany's dpa agency. "It is a new phase in my life and I am really looking forward to it, but I also feel nervous.
"It is like before the first day at school.
"Now I have a new challenge in a new country, a new style of play and a new language and I am ready for it."
Mertesacker played in Germany's 2-2 draw with Poland on Tuesday after missing the 6-2 win over Austria on Friday.
"It was great to be part of the team again," he added. "It is going to be an open race for places - we have a lot of options for next year [the Euro 2012 Championships] in the centre of defence. There are four or five top players there."
Meanwhile, Arsenal chairman Peter Hill-Wood has dismissed speculation that Arsene Wenger could be sacked over the club's poor start to the season.
The 75-year-old moved to reassure Arsenal fans that the club's most successful manager would remain in charge.
"It's complete and utter rubbish and absolute nonsense. I think he is happy enough and we are happy enough," he is quoted in the Daily Star.
Reacting to comments made by Barcelona vice-president Josep Maria Bartomeu suggesting Arsenal undervalued Cesc Fabregas, Hill-Wood added:
"He is absolutely right - they did get him on the cheap. But he wanted to go back there and we respected that."