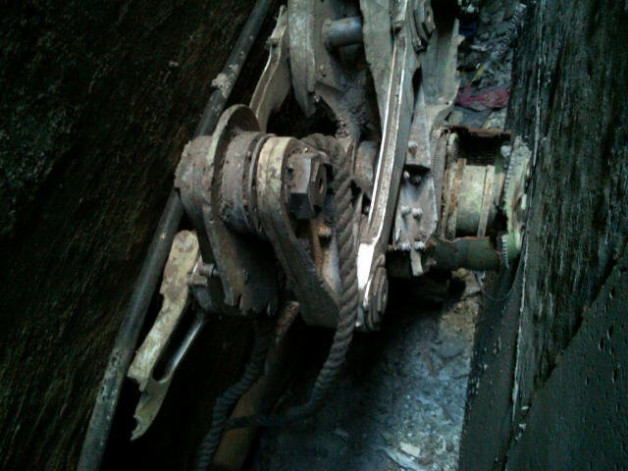 The landing gear of one of the hijacked airliners that crashed into the World Trade Centre in New York on 9/11 has been found lodged between two buildings streets away from Ground Zero.
The 5-feet piece of metal, bearing the Boeing name and a serial number, was found in an 18-inch rubbish strewn gap between blocks.
Surveyors, hired by the owners of one of the buildings, made the discovery on Wednesday, and police cordoned off the area as a crime scene.
"The odds of it entering that space at exactly that angle that would permit it to squeeze in there," he said. "It had to come in at almost precisely the right angle," New York police chief spokesman Paul J Brown told the New York Times.
Investigators are working under the assumption that the piece is "a portion of the landing gear of one of the two planes destroyed on 9/11," Mr Browne added.
The area between 51 Park Place and 50 Murray Street remain closed to the public as experts from the medical examiner's office prepare to search it for human remains.
"It's a manifestation of a horrific terrorist act a block and a half away from where we stand," New York Police Commissioner Ray Kelly told reporters outside the secured site. "It brings back terrible memories to anyone who was here, who was involved in that event."
Pictures show that the gear was found with a length of rope wrapped around it and investigators have not ruled out the possibility that it was lowered down with a pulley.
At 8:46am on September 11, 2001, United Airlines flight 11 was flown by terrorist hijackers into the north tower of the world trade centre, 17 minutes later United flight 175 was flown into the south tower.
Hijacked planes were also crashed in Pennsylvania and into the Pentagon building in Washington DC with almost 3,000 people losing their lives.
Since Ground Zero was cleared of wreckage in 2002, other pieces of wreckage have been found nearby.
The latest discovery has been made close to the location where a mosque and community centre are set to open.
Five Al-Qaida militants, currently detained in Guatanamo Bay, are to be tried for the attacks by a military court.
Khalid Sheikh Mohammed is accused of masterminding the attacks, and he and his co-defendants are charged with conspiring with Al-Qaida, terrorism, and 2,976 counts of murder, one for each of the victims of 9/11.
They face possible death sentences.