Anheuser-Busch InBev and SABMiller are set to face a series of regulatory hurdles before the deal of a merger can go through. The beer-makers finally signed an agreement for a tie-up on Wednesday (11 November).
A battle with regulators is set to take place because of the size of the merger. Belgian-Brazilian brewer AB InBev launched a final bid of £71bn ($108bn, €100.5bn), representing the biggest deal in British history.
In an attempt to smooth the process for the merger, SABMiller had already made moves to sell its stake in MillerCoors, which is a joint venture with Canadian brewer Molson Coors.
AB InBev announced after the takeover it would sell the 58% MillerCoors stake, but it remains a question whether that is enough for US antitrust regulators. London-listed SABMiller is considered a great addition to AB InBev's brewing portfolio, mainly because of its Africa market.
The global scale of the deal will probably cause national and international regulators to set out their demands before they approve the merger. AB InBev and SABMiller will produce over a third of the world's beers and have a significant advantage over rivals Molson Coors and Heineken.
AB InBev announced that the merger would result in cost and efficiency savings of some $1.4bn. Around 35% of these spending cuts will be executed by realigning corporate headquarters and overlapping regional headquarters, causing experts to predict major job cuts at the whole company.
Fans fear that SABMiller's iconic Mayfair office in London will be closed down, but neither parties have confirmed that this is the case. Others are worried that the London office will be where the AB InBev axe will fall.
"We believe this combination will generate significant growth opportunities and create enhanced value to the benefit of all stakeholders," AB InBev chief executive Carlos Brito commented.
"By pooling our resources, we would build one of the world's leading consumer products companies, benefitting from the experience, commitment and drive of our combined global talent base."
The offer of £71bn was finally made after weeks of talks. AB InBev and SABMiller decided to postpone the deadline twice. Although the deal will have a serious impact on the UK brewer, AB InBev hiked its bid many times.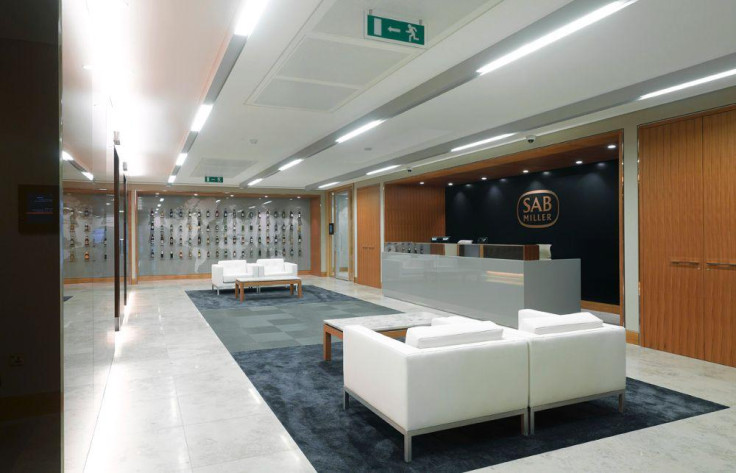 SABMiller
Apart from job cuts and the possible closure of the Mayfair office, FTSE 100 company SABMiller will also de-list from the London Stock Exchange. The merged business will be listed on the Euronext Brussels, where AB InBev is already registered.
"Listing on the London Stock Exchange in 1999 was the launch-pad for our global ambitions, leading to the creation of the number two global brewer and a FTSE-10 company, with industry-leading shareholder returns," SABMiller boss Alan Clark commented.
"The SABMiller story is a simply amazing achievement, and everyone who has been a part of it should feel immensely proud of the value they have helped create. I am sure the next chapter will bring new opportunities for exceptional success."
On Thursday (12 November), SABMiller reported that its pre-tax profit plummeted by 18% to $2.3bn. The company's revenue fell by 12% to $10bn. The firm, which is trading in Africa especially, said it is battling unfavourable exchange rates.