Chinese state media has taken a dig at Prime Minister Shinzo Abe over his visit to the US naval base at Pearl Harbor to offer his condolences, saying the Japanese leader should have first mended ties with his neighbours. Abe's reconciliation efforts are "misplaced" and that he chose a "wrong place to face history", it said.
Stronger Japan-US ties as demonstrated by Abe's visit are likely to be seen as a warning message to regional rival China. Beijing already has strained ties with Washington and could have an even more difficult relationship once Donald Trump takes charge of the White House as the president-elect has fallen out with Beijing over the "one China" policy.
Although Japan's effort is seen as "historical reconciliation", it is no more than a diplomatic gesture to boost bilateral ties and not meant to bow to history, the Global Times said in an editorial on 28 December.
It ridiculed Abe's promise to not let his country engage in any war again, saying he has made similar statements in the past "but such a pledge is not accompanied by real actions".
The state-run tabloid had earlier called the US-Japan relationship a Cold War era product and that stronger ties would not affect China in any way. Taking a similar stand, the latest editorial accused the Abe administration of seeking closer ties to contain the communist country. However, such a geopolitical impasse in the region can hardly be broken now, and China will cope with it steadily, it said.
It also warned that Beijing would engage in its own development and strengthen its defence and navy.
"If Japan really wants to reconcile over historical issues, Abe chose the wrong place. He should go to China's Nanjing or Marco Polo Bridge," the editorial said.
Striking a similar note, Xinhua news agency said in its commentary that Japan's efforts at reconciliation are "misplaced".
"If Abe wishes to make amends, he should begin closer to home, to show his sincerity to the Chinese, the Koreans, or other Asians his country once afflicted," Xinhua said. It added that a "horrifying event" had taken place in China too - much before the Pearl Harbor attack by the Japanese in 1941 - but it was "little known to the outside world".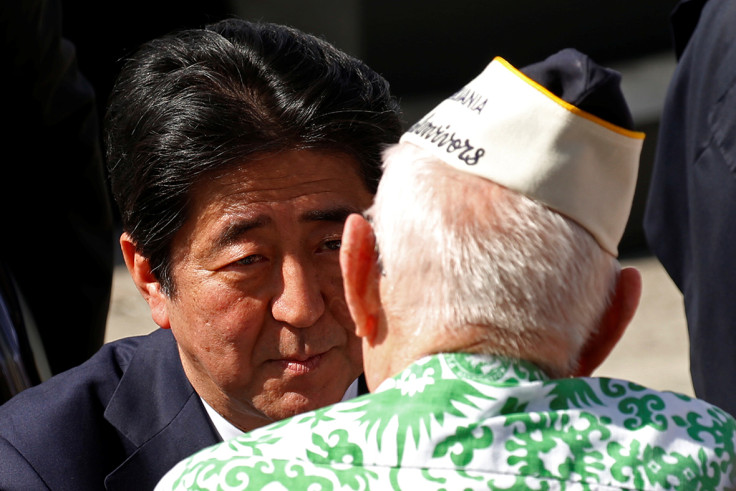 While the Global Times noted that historical reconciliation is unlikely to affect the existing Japan-US relations, Xinhua questioned the need for such a reconciliation in the first place.
"Japan can never turn the page without reconciliation with the victim countries in Asia, including China. Sincere reflection is the only key to the reconciliation," Xinhua cited Chinese Foreign Ministry spokesperson Hua Chunying as warning Tokyo with respect to Abe's visit to Pearl Harbor.