The US state of Minnesota is dealing with its worst measles outbreak in over three decades. There are now more measles cases in Minnesota than there were across the entire United States in 2016.
There are 73 confirmed measles cases in the state, according to Minnesota Department of Health. Last year there were 70 confirmed cases of measles nationwide, according to the Centers for Disease Control and Prevention.
The outbreak has primarily affected children in the Somali-American community near Minneapolis. 21 have been hospitalised.
Health officials blame the anti-vaccination movement for the recent outbreak. They accuse activists of spreading the widely discredited theory among the immigrant community that the measles, mumps, rubella (MMR) vaccination leads to autism.
The correlation between the MMR vaccination and autism was first drawn by British medical researcher Andrew Wakefield in scientific journal The Lancet in 1998.
The paper sparked a major health scare in the UK with confidence in the MMR jab falling from 59% to 41%. An investigation by the Sunday Times revealed that Wakefield had manipulated evidence and was being paid by lawyers who were trying to prove that the vaccination was unsafe.
Anti-vaccination groups regularly invited Wakefield to speak to worried parents in Minnesota, according to the Washington Post. Immunisation rates in the Somali community plummeted by almost 45% between 2004 and 2014, according to the Department of Health. In April 2017 the first cases of measles appeared.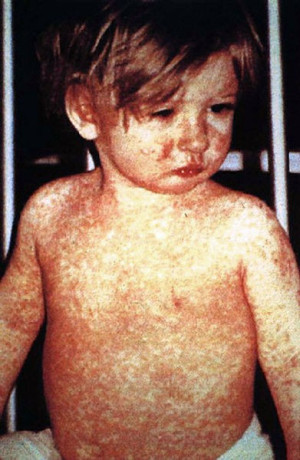 Siman Nuurali, a Somali American doctor who coordinates care at children's hospitals across the state, told the newspaper that the targeted anti-vaccination movement was "abhorrent."
"It's remarkable to come in and talk to a population that's vulnerable and marginalized and who doesn't necessarily have the capacity for advocacy for themselves, and to take advantage of that," Nuurali said.
Researchers at the University of Minnesota investigated whether there was a higher prevalence of autism in Somali versus non-Somali youth. They found that Somali children and white children were equally likely to be diagnosed with Autistic Spectrum Disorder (ASD).
"This outbreak has everything to do with being unvaccinated," Kristen Ehresmann, director of the Infectious Disease Division at the Minnesota Department of Health, told CNN.
She said that there was increased risk of the disease spreading in June as Somali-Americans celebrate the holy month of Ramadan.
"At the end of Ramadan, the big celebratory feast is something that's attended by everyone, and many mosques will join together for that. So you not only have everyone in attendance, but you also have potential for even greater mixing than usual," she said.
The health department is collaborating with imams to encourage people with measles to avoid the communal feasts at the mosque.
"They have let us know that one of the values or messages in Islam is, if someone is ill, that taking time to be alone or to isolate oneself has a spiritual benefit," Ehresmann said.
Measles is highly contagious as it is an airborne disease which can be transmitted to others through coughs and sneezes. Symptoms include a runny nose, high fever, cough and skin rash. The disease can lead to pneumonia, hospitalisation and even death.