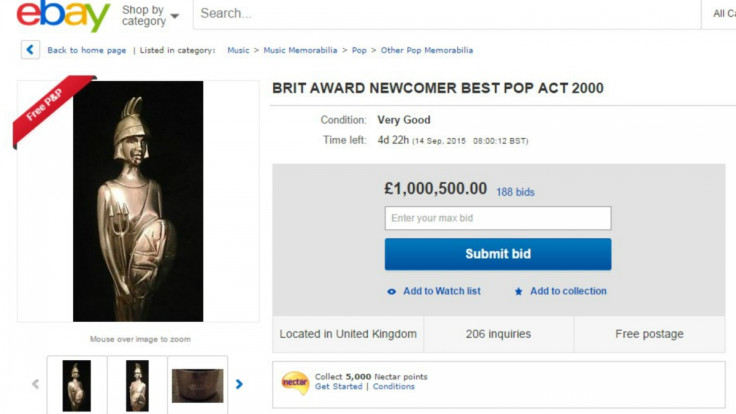 It is a symbol of his success as a member of one of the UK's most popular boy bands but Abz Love from Five is clearly not nostalgic. The rapper is selling his Brit Award on eBay and it has proved to be a wise decision as the statue has received bids of £1m ($1.5m) already.
The 36-year-old and his bandmates, Sean Conlon, Ritchie Neville, Scott Richardson and Jason "J" Brown, won the newcomer best pop act in 2000 at the height of their fame but Love, real name Richard Abidin Breen, is offloading the award to pay for gardening tools. In the product description, he states: "No more awkward silences when people come over to your house!! This is a real conversation piece even if you didn't win it! Guaranteed 100% real. Take advantage of my poverty and grab this rare opportunity to own a bit of pop history!!"
According to the Keep On Movin' singer, the statue has "light scratching". As a key selling point, the former pop star adds: "Has been held by Jason Statham although I can not prove this." Revealing what he will use the money for, Love says: "Selling to fund a delivery of topsoil and maybe some garden tools."
Bids for the piece of history have skyrocketed since it was listed at 8am on 7 September. The former Celebrity Big Brother star learned of the milestone bid during an interview with the Press Association and said: "Oh my God – I don't know what to say. It has to be a hoax – it can't be real. I don't need a million quid! I feel light-headed. All I needed was a bit of soil and it's gone nuts. I better get in touch with eBay – that's a lot of soil."
After years of living a wild lifestyle while a member of the boy band, Love decided to swap the bright lights for a small farm in the Welsh countryside where he resides with his 31-year-old girlfriend, Vicky Fallon. In order to fund the smallholding, Love has sold Louis Vuitton luggage, a Rolex watch and diamond stud earrings but he never intended to sell the Brit Award.
The Big Reunion star told PA: "It's always been something I've taken with me along the journey, even when I was broke. But then I was looking at it one day – we use it as a doorstop – and I thought that it is so under-appreciated by me now I might as well put it up for auction too. Maybe I'll start a trend for other struggling pop stars." He added of the reaction to the eBay listing: "It's life-changing for us because we've been struggling and it will mean we can do all the things we haven't been able to afford to do until now."