Acer is set to steal the crown of world's thinnest laptop from Apple's MacBook Air, when the Aspire S5 ultrabook goes on sale.
The Aspire S5 will be released in the second quarter of 2012. It is a 13.3-inch laptop that measures just 15mm at its thickest point - 2mm thinner than the Air - and features an ingenious motorised door, behind which a range of ports are hidden.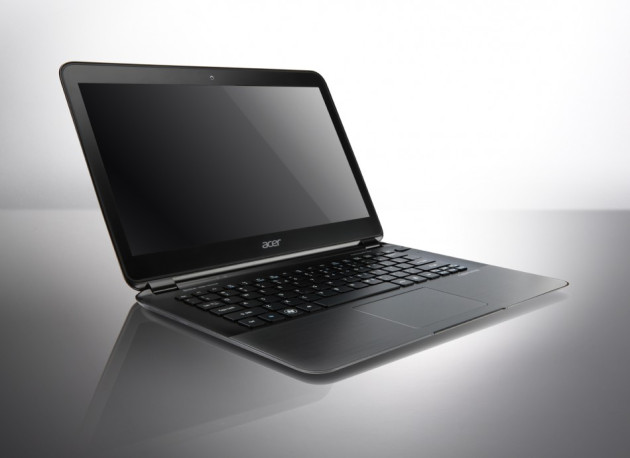 In creating a the world's thinnest laptop, Acer found that ports for USB devices and other peripherals were too thick. To overcome this, the S5 has a motorised flap which spans almost the entire width at the back of the laptop.
At the touch of a button, the flap - known as MagicFlip I/O - lowers to reveal an HDMI port, USB 3.0 port and a Thunderbolt connection, offering incredibly fast data transfer speeds.
International Business Times UK was invited to see the Acer Aspire S5 at London's exclusive Groucho club in Soho, where we were told that the MagicFlip has a life expectancy of 15,000 uses before the motor could wear out.
Acer also promises to replace the motor if it were to fail free of charge and at any time, even if the laptop is out of warranty.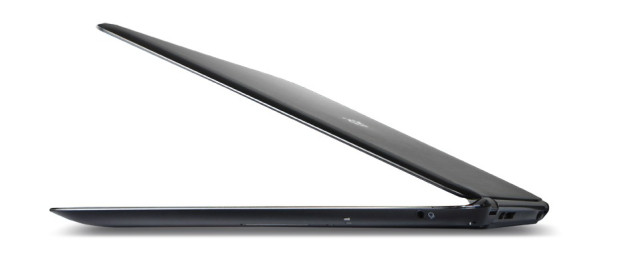 Since it was first revealed at the Consumer Electronics Show in Las Vegas in January, Acer has remained tight-lipped on the S5's exact specifications; what we do know is that it weighs 1.35kg - up on the Air's 1.08kg - and, thanks in part to flash storage, can wake up in just 1.5 seconds.
The price is not known but we're not expecting the Aspire S5 to be cheap; with Apple's MacBook Air starting at £849 and that fancy motorised port, we wouldn't expect the Acer to be much cheaper.
An Acer spokesperson said at the Groucho event that the S5 ultrabook connects to any available Wi-Fi networks periodically while it is asleep to update Facebook, Twitter and email - so when the laptop is opened all of your email and social networks are already up to date.
The company calls this feature Acer Always Connect and claims that - even with the laptop connecting to Wi-Fi and updating itself - the device can remain in sleep mode for "several weeks".
International Business Times UK will post an in-depth review once the Aspire S5 becomes available soon.