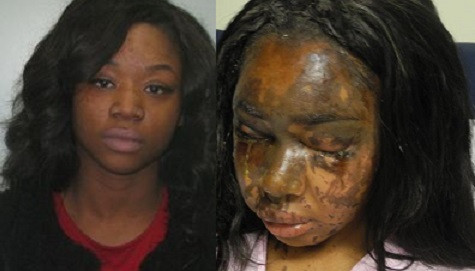 A woman who scarred her friend for life after throwing acid in her face has been sentenced to 12 years in jail.
Mary Konye, 22, was found guilty of attacking Naomi Oni, also 22, outside her home in Dagenham, east London, in December 2012.
Oni suffered severe burns to her face, neck and body and had to undergo a series of skin grafts after the attack.
Snaresbrook Crown Court heard Konye disguised herself in a niqab and threw the acid in revenge for being called ugly.
She was found guilty of throwing a corrosive fluid with intent to burn, maim, disfigure, disable or do grievous bodily harm.
Judge David Radford told Konye that her "deliberate and wicked act had been devastating to Miss Oni".
The defendant had a premeditated and callous plan to permanently disfigure the 22-year-old, the judge continued.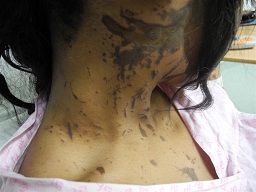 Konye admitted to throwing the acid in Oni's face, but denied intent to cause harm.
In her impact statement read out to the court, Oni said the "traumatic experience" had changed her life forever.
She said: "I'm reminded what I look like every day I look in the mirror or see the reaction on people's faces.
"I feel paranoid and scared going out alone. People often stare at me. Some ask what happened to my face. I'm still scared of being attacked again."
She added: "It was bad enough believing it was a random attack. Knowing Mary planned this is beyond belief."
Det chief insp David Whellams, of the Homicide and Major Crime Command, said: "This was truly a horrific attack on the victim by someone she considered to be a friend.
"But Konye was almost obsessively jealous of the victim's good looks and, after a previous argument between them, hatched an almost unbelievable plan to attack her with acid.
"The victim's life has been changed forever - she will always bear the scars of what happened - but she has been incredibly brave and I am pleased she has seen justice done."