The acting director of the FBI, Andrew McCabe, told the Senate Intelligence Committee on Thursday (11 May) that he will not be updating the White House on the bureau's investigation into Russian interference in the election.
Though he would not go into a play-by-play of Comey's dismissal, McCabe did contradict the White House on some claims - including the playing down of the Russia investigation, which he called "highly significant".
McCabe's comments come after President Donald Trump summarily fired his predecessor, FBI Director James Comey, the timing of which has raised many questions.
Comey's dismissal also came days after he reportedly asked Deputy Attorney General Rod Rosenstein for more resources to further the FBI's Russia investigation. A letter from Rosenstein was then cited by Trump as the recommendation that saw Comey fired.
The White House had suggested that Comey was unpopular within the agency, but that was contradicted by McCabe on Thursday, who said that the former director had broad support in the FBI. He also said that he held Comey in the "absolute highest regard."
McCabe also would not confirm that Comey had told Trump that he himself was not under investigation three times, as Trump's letter dismissing the former director had stated. The containing paragraph was called "bizarre" by one Republican member of congress.
In his first public outing as acting director, McCabe also said that there had been "no effort to impede our investigation" and said he would alert Congress if any such effort took place.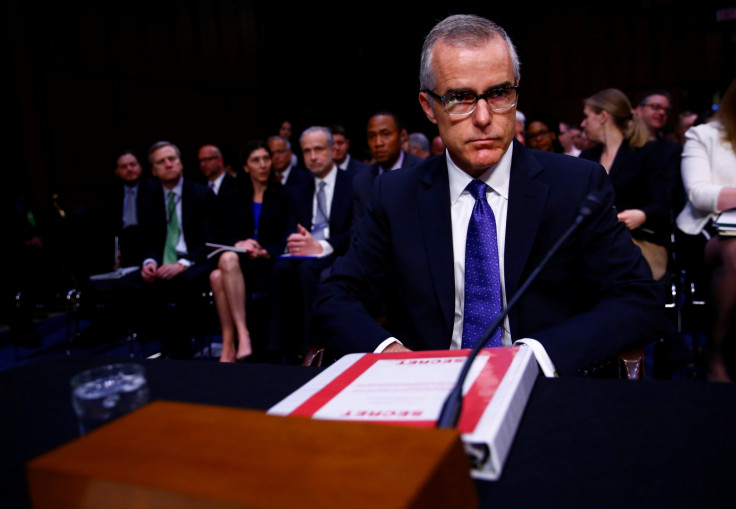 Though the Republican leadership has fallen behind Trump in his dismissal of Comey, a number of senators and representatives from the party have expressed concern at the timing of Comey's departure. Congressman Justin Amash even tweeted that he and his staff were "reviewing legislation to establish an independent commission on Russia."
Senate leader Mitch McConnell pushed aside calls for an independent investigation, saying on the Senate floor that it would "only serve to impede the current work being done."