Authorities in New Orleans removed a statue of Confederate President Jefferson Davis in the early hours of Thursday (11 May) morning amid protests from both supporters and opponents of the monuments.
The statue is the second of four Confederate-era structures scheduled for removal by the Louisiana city. The city said it wants to relocate them to a museum or other suitable site.
Workers wearing masks and helmets began taking down the statue amid a heavy police presence. The area was guarded by snipers as tensions ran high, ABC News reported.
As people gathered to witness the take down, police separated the two sides with barriers. However, there were reports of altercations.
Both sides clashed during the removal as supporters waving Confederate flags chanted "President Davis", while others yelled "take 'em down" in reference to the monuments seen by many as symbols of racism and white supremacy.
"I am here to witness this debacle, taking down this 106-year-old beautiful monument," Pierre McGraw, president of the Monumental Task Committee, was quoted as saying by Reuters. "It hurts a lot."
Others, such as Quess Moore, came to witness the statue's removal "to celebrate the victory in the battle against white supremacy particularly in New Orleans."
New Orleans Mayor Mitch Landrieu, who supports the removals, was also targeted by supporters of the monument as they chanted "Mitch for prison".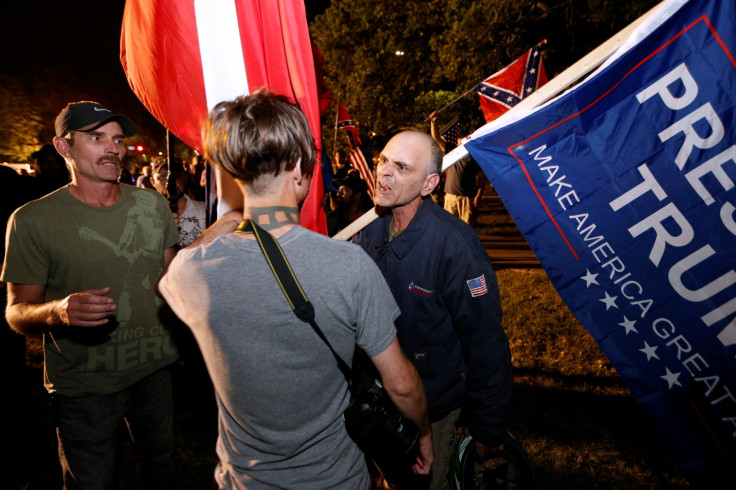 "These monuments have stood not as historic or educational markers of our legacy of slavery and segregation, but in celebration of it," Landrieu said in a statement.
"To literally put the Confederacy on a pedestal in some of our most prominent public places is not only an inaccurate reflection of our past, it is an affront to our present, and a bad prescription for our future. We should not be afraid to confront and reconcile our past," the mayor added.
The first memorial to be removed was an obelisk commemorating the Battle of Liberty Place, which was pulled down last month. It was erected in 1891 to honour the Crescent City White League, which tried to overthrow the biracial post-Civil War government.
The two remaining monuments set to be removed are those of Confederate generals Robert E Lee and Pierre Gustave Toutant Beauregard.