The Ugandan-led Islamist armed group Allied Democratic Forces, known as ADF-Nalu, may be looking to establish a caliphate in eastern Democratic Republic of Congo (DRC), where it has operated since the late 1990s.
The merger between puritanical Muslim Ugandans from the Sunni Islamic missionary movement Tablighi Jamaat and the National Army for the Liberation of Uganda (Nalu), was masterminded by Ugandan rebel leader Jamil Mukulu in western Uganda after they found themselves marginalised following the fall of the dictator Idi Amin.
Pushed out of Uganda, the religious crusaders settled in the dense forest of DRC's eastern borderlands during former President Mobutu Sese Seko's reign (1965-1997).
Three decades down the line, the mysterious rebel group is reported to be using terror tactics - abductions and killings - to establish a caliphate in the eastern province of North Kivu, where fighters claim to own land.
"They told us that these lands belong to them, that they have documents proving that they had bought [the lands] around Beni during the Mobutu era," Adam Kyala Lungalunga, 59, who was kidnapped in November told IBTimes UK. "They want to claw back the authority of these lands."
Beni-based Nicaise Kibel Bel Oka, editor of the newspaper Les Coulisses recently claimed the ADF were exercising "barbarity in the name of sharia law" - the Islamic law. "Islamic terrorism is already very fierce [in the region]," Bel Oka said, adding that the rebels refer to their base as 'Medina'
While he agreed with the editor's depiction of "the dawn of Jihad in DRC", the president of the civil society of Beni who has been recording some of the worst massacres in the country's recent history, Kizito Bin Hangi, said little was known about the coordination of the regional groups, populated by thousands of Ugandans, Tanzanians, Rwandans and Congolese fighters.
The identity of the ADF's leader also remains a mystery. "When ADF fighters are arrested here, they never reveal who is in charge," Bin Hangi told IBTimes UK. "We don't know who heads the groups, we don't know who is providing them with funding or weapons."
"It's difficult to confirm exactly what their goal is, but if you look at their modus operandi, it's easy to say they are looking to establish their Islamist movement using terror as a means to control the population," the civil society leader said, adding that the Islamists' control over large swathes of land is facilitated by the chaos that prevails around Beni, Lubero, and West of Beni. "There is this entire zone just outside of Beni that is inaccessible as they have total control."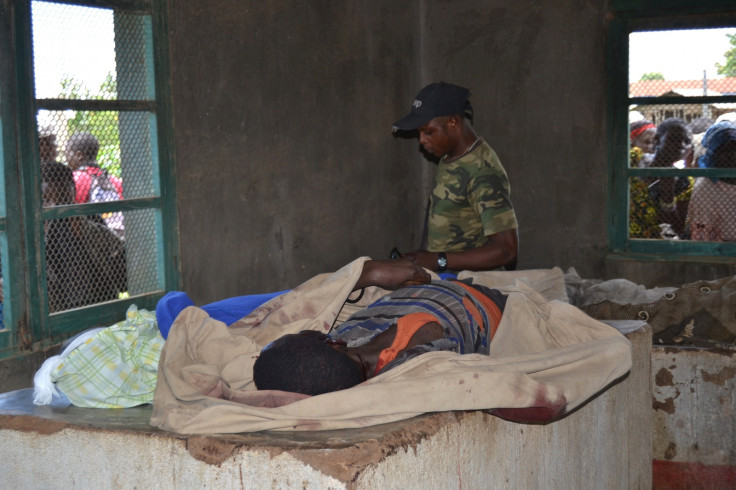 Beyond ideology, the ADF groups are reported to be seeking to "exploit natural resources under the North Kivu's fertile ground", and are enlisting the local population to work in illegal mines in this region rich in coltan, a metallic ore.
Unlike other armed groups in the region, who only conscript fighters by force, Bin Hangi said ADF groups use local Congolese touts who trick local residents into becoming recruits. "Those Congolese men recruit civilians right in the city, in villages by promising jobs such as cultivating land or looking for gold in exchange for money. Those recruiters are ADF 'employees': for instance, a recruiter manages to convince five or six local residents, who he brings to the bush. As soon as they are in the forest, he receives money from the ADF," Bin Hangi explained.
After people are taken to the bush, ADF will deny ever promising them jobs, disorientate them and force them to pledge allegiance to their movement. "Those who refuse to adhere are killed. Those who accept are used as soldiers," he added.
Like many Islamist sub-groups operating in East Africa and across the Sahel, Bin Hangi confirmed ADF also recruit children. "In their ranks we know that there are children. When they can't recruit them using deceit, they kidnap them by force. We have documented how pupils are kidnapped on their way to school or in the schools. That's how children are enrolled in these groups."
Angela, a survivor of an ADF raid on her village, in which her two younger brothers, aged 15 and 18, were slaughtered in front of her during the attack in August 2015, confirmed the youngest attackers "must have been eight or nine".
Recently, Rogatien Vagheni, who lives in Mutwanga, in the Ruwenzori sector, confirmed three children were kidnapped in his village. "The children were between the ages of eight and 15," he told IBTimes UK. "The children were fortunately released after their families agreed to pay money to the captors. The children told us they were taken by force by those armed groups."
Referring to numerous other witnesses, whose testimony confirms the ADF's use of force to recruit young children, Bin Hangi added: "These kidnappings also happen when the children are in the fields [cultivating] with their parents, all of a sudden these armed men fall on them and take them away."
Since 2014, the national army (FARDC), with the support of the the United Nations peacekeeping mission to DRC - MONUSCO - have launched an offensive against the ADF-Nalu.