Civil society has urged local residents in the Democratic Republic of Congo (DRC)'s mineral-rich North Kivu province to take charge of their own security after more than forty people were killed in an attack attributed to armed rebels.
Since the massacres began two years ago in the territories of Beni, Butembo and Lubero in North Kivu, more than 1,150 people have been killed and kidnapped. Thousands have been displaced, and hundreds have simply been "kidnapped" – and have disappeared without trace.
At least 45 people were believed to have been killed in the attack which started at around 18:30 local time (17:30 GMT) on Saturday (13 August) in Beu - a commune in the district of Rwangoma located around 4km in the south-east of the town of Beni. The attack took place only four days after President Joseph Kabila toured the region.
Security forces warned of imminent attack
Speaking exclusively to IBTimes UK, the president of the civil society of Beni who has been recording some of the worst massacres in the country's recent history, described how local residents of the Beu area started suspecting some people of being attackers "because they were wearing military clothes and they were seen carrying weapons".
"That's why the population was suspecting those people, because they were not like elements of the FARDC (national army - Forces Armees de la Republique Democratique du Congo)," Kizito Bin Hangi said from Beni.
After residents warned of an imminent attack, and despite their calls to security forces to "take measures" and disseminate this information, attackers returned later that evening. "The security forces did not take into account or ignored this information, and curiously around 18:30 the attackers started slaughtering people, until around 20:00. (Security forces') intervention came later after the enemy had left after finishing its mission, which is what we deplore," Hangi explained.
45 killed, including children
"There is a vast fear in the population to see so many people slaughtered with machetes and axes like animals." Beni's branch of main DRC human rights group, ASADHO, found at least 45 people - including a number of children - had been killed while three people are claimed to be missing. No injured survivor is currently in hospital.
"Everyone we found had been killed and we are trying to follow up on those disappearances to establish whether those people are missing or not," Hangi said, adding the assailants had also burned some 30 houses and looted goats. "Then the attackers left for a destination still unknown today."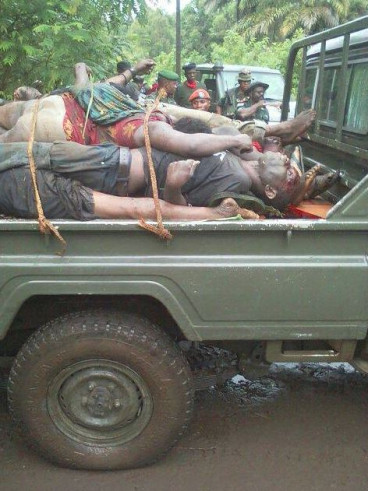 The assailants' identity also remain unknown, but residents believe they could be from the rebel ADF-Nalu group, who have inhabited the region's dense forest for three decades. "They are alleged to be ADF because we don't know what their real identity is. Survivors have told us the attackers spoke Kiswahili 'of the other side' (not from the region) and Kinyarwanda (the language of Rwanda)," Hangi said.
Victims' bodies bound together 'like beasts'
A group, which included both civil and military security personnel and members of the civil society, travelled to the site of the attack to retrieve the bodies. "Instead of deploying the security forces to pursue the enemy, they returned with the bodies of the victims. We had hoped they would pursue the attackers but, unfortunately, they didn't."
To compound residents' misery, Hangi described how the bodies were retrieved from the mountainous Beu area and tied together before being stacked on the back of FARDC's four-wheel drive vehicles and transported to the morgue. "The cadavers were attached like beasts and were not even covered by sheets. That shocked us."
The United Nations mission in DRC (MONUSCO), which did not intervene until later that night, was visible on Sunday (14 August) circulating on Beni's main roads. "We were surprised by the MONUSCO's passivity. The MONUSCO made no effort, but only stayed in the centre of town."
Local population urged to take charge of its own protection
Rumours were rife on Sunday night that the assailants were "circulating in the area".
"We have urged the populations to take measures and to take charge of their own (protection), but without specifying exactly what action can be taken with regards to this," Hangi revealed.
Civil society urged local residents to go and clear up bushes surrounding the town which could be potential hiding places for attackers, but the operation has not yet been carried out. Local residents, meanwhile, have repeated their call for a change in the FARDC and security forces' command, and troops, committed to the region.
"We would like those people in charge to be transferred and replaced by other units because we believe certain military officers of the FARDC could be accused of being accomplices in these massacres - especially when we see that the military fail to pursue the enemy after the massacres. They only intervene after the attacks."
Congolese youth activist group Lutte pour Le Changement (LUCHA), meanwhile, condemned the attacks. In a statement, it said: "Our thoughts are with all those compatriots once again victims of the barbarity that nothing can justify, as well as the state's abdication (those who are supposed to protect Congolese). To survivors and to all the inhabitants of Beni, they know they are not alone."
The group said it was preparing major actions to be carried out nationwide, "to honor the victims and hold accountable the authorities and MONUSCO".
The Congolese government announced three days of national mourning from Monday 15 August to 17 August. Its spokesman Lambert Mende stated in a condolence message: "The government presents its condolences to the families and relatives of the victims and the entire population and Beni in North Kivu".
The first funerals take place on 15 August.