'We are scared they could come and recapture us,' says survivor of ADF rebels attack in DRC
IBTimes UK exclusively speaks to the survivor of an attack by Ugandan rebels at his home in Mavivi.
Several civilians from the village of Mavivi in the Democratic Republic of Congo (DRC)'s restive eastern region were released after being held captive by alleged Ugandan rebels of ADF NALU last week. IBTimes UK spoke to Adam Kyala Lungalunga, 59, one of the survivors.
On Saturday 12 November at 09:30 (11:30 GMT), the father of 11 was in the fields near the town of Mavivi, in the territory of Beni in North Kivu, when he was ambushed. Since the massacres began two years ago in the territories of Beni, Butembo and Lubero in North Kivu, more than 1,150 people have been killed and kidnapped, with thousands more displaced.
"I was going to get something to eat. On my way back, I encountered these bandits. I was alone, but others had already been kidnapped," he told IBTimes UK in an exclusive interview near his home in Mavivi.
15 other local residents, all "able-bodied adults", including two woman and a young boy, aged 14, had already been captured by around 160 rebels.
"They were armed. Among these assailants, there were men, women and children. All were equipped with firearms and weapons. The children were aged around 7 to 13," the survivor said, adding that the gunmen were speaking two languages, Kiganda – spoken principally in Southern Uganda – and Kinyarwanda, mainly spoken in Rwanda.
There are an estimated 70 violent militias competing for territory and control in the region, but residents believe the rebel ADF-Nalu group, who have inhabited the region's dense forest for three decades, are behind the latest string of abductions and killings.
"We knew they were ADF because there are a lot of ADF members operating in the region. They told us that these lands belong to them, that they have documents proving that they had bought [the lands] around Beni during the Mobutu era," Lungalunga explained, pointing to Mobutu Sese Seko, who was President between 1965 and 1997. "They want to claw back the authority of these lands."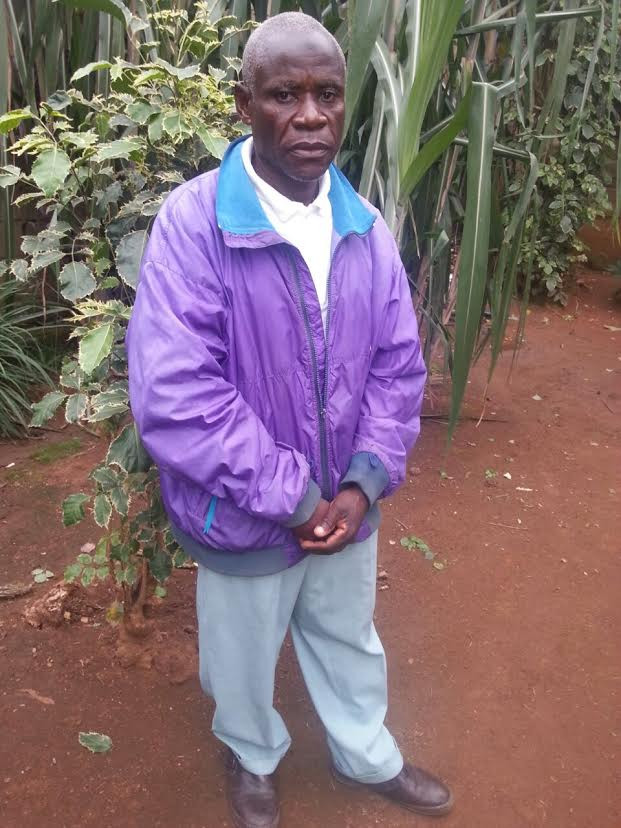 ADF attack survivor, Adam Kyala Lungalunga, poses near his home in Mavivi, North Kivu, DRC the day fellow detainees were released by alleged Ugandan rebels
Elsa Buchanan for IBTimes UK
Adam said he and fellow captives were made to do forced labour – and became carriers for the rebels. The survivor claims the abductees were "forced to carry brushwood of between 60kg and 80kg", and were constantly watched, including during night-time.
"We were [detained] in the bush, without any shelter. We didn't have any hope they would release us. By the grace of God they released us." Adam was detained for 36 hours, and was released after he begged with his captors. "In 2013/2014 I had tuberculosis. So I told them about my illness, and I was released because of my health."
After walking around 50km back from the bush to the field where he was captured, Lungalunga said he encountered a military position, officers to whom he told his story and asked them to help release the remaining 15 abductees.
"They [army officers] told me they would make efforts to put an end to these [rebels]," he explained. "Thousands and thousands of people have been kidnapped before [me] and we are scared they could come and recapture us, again." Asked whether he is considering leaving him hometown for safer grounds, Lungalunga said: "If I had the means, I would move away."
Pleading for the government to "make efforts to put an end to this phenomenon" so local residents can feel safe enough to return to their fields, the survivor added: "The Congolese need to unite, with our army [FARDC] and the international community, to provide them with information so that they can end this ADF phenomenon."
In May, the United Nations Organization Stabilization Mission in the DRC (MONUSCO) and FARDC launched the Usalama operation against the Uganda militia. In Lungalunga's view, the Congolese army could "easily annihilate" the Islamist armed group, who he claims is now weak. Formed by the ADF Commander Jamil Mukulu in 1989 with the aim of overthrowing Ugandan President Yoweri Museveni, the rebels were gradually pushed westwards by the Ugandan army before shifting their activities to the DRC.
Held for 13 days, the other detainees were released last week, and asked to transmit a message to the authorities. For every loss in their rank, the ADF said they would kill 10 civilians. The president of the civil society of Beni who has been recording some of the worst massacres in the country's recent history, Kizito Bin Hangi, confirmed Lungalunga's story.
In August, Pope Francis denounced the "shameful silence" of the international community against the massacres committed in the North Kivu province.