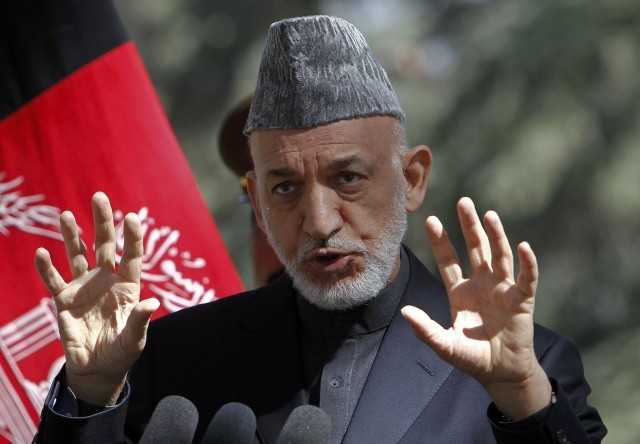 Afghanistan is holding its breath. Historic presidential elections are within sight and the country's population doesn't know who the next leader will be, or where he will take Afghanistan.
It's not an understatement to say that the vote on April 5 could be the most significant day in the country's history since the US-led invasion in 2001.
You get it. The stakes are high.
Afghanistan has not changed its leader since Hamid Karzai was sworn in as interim president in 2002. In the 12 years that followed, a thick web of cronyism and patronage was spun, catching dollars as foreign development money flew in to the country.
While corruption should not be applauded, it has helped get things done in Asia's poorest country. A necessary evil. Karzai's imminent departure could mean a radical overhaul to the way the country does business.
Those with power and money will want to entrench their privileges, but there are no guarantees how the new regime will act. Less than a week before the polls, it remains an open-race without a clear favourite. For this reason, Afghanistan's business class and its consumers have been incredibly cautious in the run up to the election.
Karzai himself has made things even worse. His refusal to sign a bilateral security agreement with the United States has been spectacularly damaging. It means there is currently no accord for American or foreign troops to stay after 2014. The thought that international troops could pull out totally this year fills Afghans with dread.
Businesses and consumers have scaled back and almost frozen activity over the uncertainty. The Afghan National Army has gradually been taking over more responsibility from foreign forces, but very few analysts believe they are equipped to secure the country without a Nato presence.
The growing uncertainty over security is evident in the country's economic output. GDP had risen steadily since 2002 and by 2012, it was around 14%. However, output fell dramatically to around 3-4% last year, according to a report presented to the US Congress by the Special Inspector General for Afghanistan Reconstruction.
"The decline in GDP is attributed to increasing uncertainty about the volatile political and security environment and to lower agricultural production and investment. With an expected reduction in international aid and spending after 2014, World Bank predictions show average real GDP growth declining to 4-6% annually through to 2018," the report said.
The Taliban, often beaten back but never comprehensively defeated, are resurgent again. The militants vowed to disrupt the elections and are already making good on that promise.
A suicide bomber killed six police officers at the gate of the Interior Ministry in Kabul on Wednesday. There was a bloody siege at a Kabul guesthouse last week: another suicide bomber, another death. The week before, gunmen slipped through security at a Kabul hotel and opened fire in its restaurant, killing nine people.
With momentum seemingly with the militants, there are fears that foreign withdrawal could usher in a period of civil war, with the Taliban pushing to regain the power they enjoyed before the US-led invasion.
However, a Taliban triumph is far from certain. A security agreement will be on the table for the next president. The Afghan council of elders, the loya Jirga, voted to back the agreement to allow foreign troops to remain in place. It was Karzai's decision to back away from a deal, eager to avoid any personal damage, and mindful that the new man in charge would have a window to negotiate.
While this postponement has come at a massive economic and diplomatic cost, at least the new president will know exactly what his first job will be.