At least 80 people have been killed and 231 others wounded following a blast in Kabul, Afghanistan. The Islamic State (Isis) claimed responsibility for the deadly attack.
The explosion ripped through the capital city on Saturday (23 July) as thousands of people from the Shiite Hazara minority protested to demand changes to the route of a proposed multi-million dollar power line. The IS-Linked Aamaq online news agency said two Daesh militants "detonated explosive belts at a gathering of Shia".
Ambulances encountered difficulties as they tried to reach the scene as authorities had closed off key intersections with shipping containers to stop demonstrators from marching on the presidential palace, according to AFP news agency. The dead and injured were taken to Istiqlal hospital near the scene of the blast, health ministry spokesman Mohammad Ismail Kawoosi said.
According to eyewitnesses, "one suicide bomber had been wearing a burqa and detonated explosives while standing among demonstrators."
Pictures showing the aftermath of the deadly attack were posted online. Images showed people covered in blood, while body parts and debris were strewn across the street.
Hospitals in the Afghan capital appealed for blood donations as the death toll continued to mount. At first, eyes immediately turned to the Taliban, which is in the middle of its annual summer offensive. The group rejected any involvement in the attack which left multiple people dead.
Afghan President Ashraf Ghani condemned the bloody assault. "Opportunist terrorists went among the protestors and set off explosions that killed and wounded a number of our countrymen including security and defence personnel," he said in a statement.
Speaking to AFP, protest organiser Jawad Naji said: "I was in the crowd of protesters when a loud bang occurred nearby. Many people have been killed or injured - I am in deep shock." Laila Mohammadi, who helped organise the demonstration, said she arrived at the scene soon after the blast and saw "many dead and wounded people."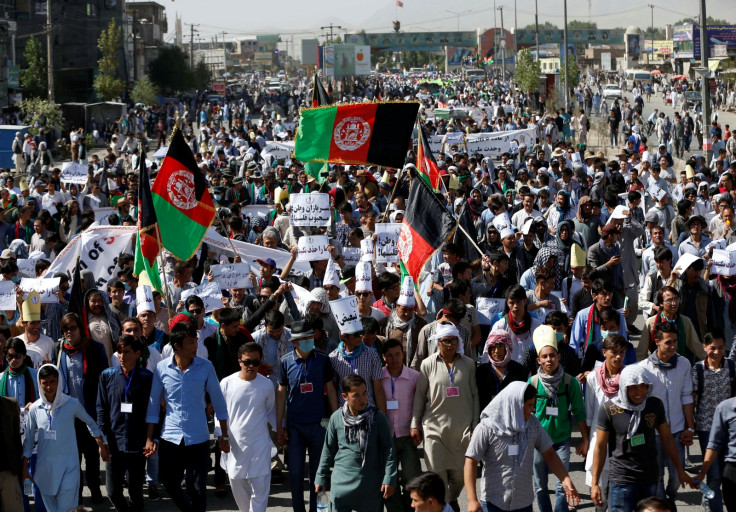 The protesters had gathered to demand the power line be routed through the province of Bamiyan, which is starved of electricity. The Hazara community makes up about 15% of Afghanistan's estimated 30 million people.
The impoverished Hazara group complain of discrimination. During the protest, demonstrators chanted "death to discrimination" and "all Afghans are equal."