Fethullah Gulen's UK supporters threatened following Turkey's failed military coup
Threats included burning down a mosque and texts signed 'angel of death'.
Followers of Fethullah Gülen in the UK have been subjected to threatening behaviour and abuse in the aftermath of last week's failed coup in Turkey. The US-based cleric has been accused of masterminding the failed uprising by Ankara, which is seeking his speedy extradition while more than 50,000 people accused of being allied to Gülen have been sacked or suspended from their jobs.
As Turkish Prime Minister Binali Yildirim pledged to "dig them [Gülenists] up by their roots" in the country and accused Gülen of leading a "terrorist organisation", his UK-based supporters say they have also been targeted by threats.
Just hours after Turkey's President Recep Tayyip Erdogan called on his countrymen to take to the streets on 15 July, the Mevlana Rumi mosque in Edmonton, north London claimed to have been targeted. "Two people entered the mosque. They started shouting out, swearing, breaking the peace," the mosque's executive director, Seval Gokce told the BBC.
"A person standing outside opened up the Turkish flag. Then an hour later, five or six more cars pulled up outside the mosque, shouting out abuse and amongst them, they were heard to say they were thinking of burning down the mosque," she added.
Another member of the mosque, Ozcan Keles, described the type of text messages he and others received following the events in Turkey.
"It's signed off by 'the angel of death' and then it's got a second signature which says MIT Special Forces and Operations UK," he said. "It's basically saying: I'm sending this on behalf or I am a representative of the Turkish government and Turkish intelligence services."
"I'm in London," added Keles. "I have nothing to do with what's happening in Turkey. I condemn the coup as much as anyone condemns it."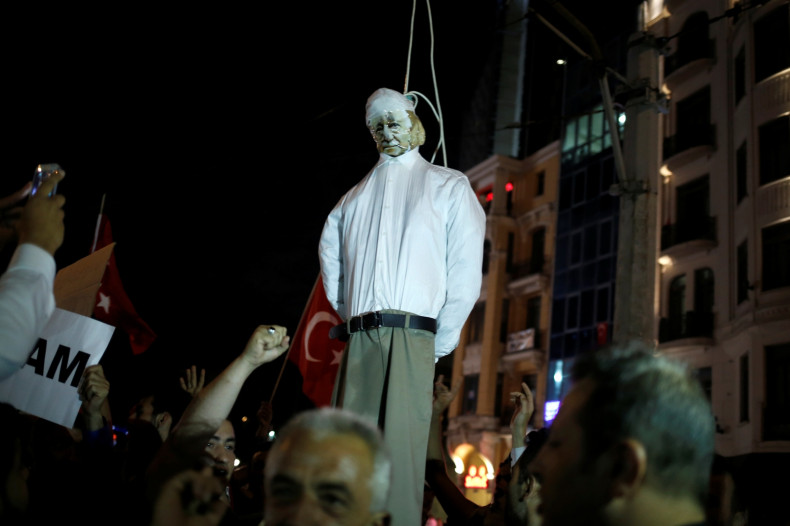 Gülen, who lives in the US state of Pennsylvania, has categorically denied behind the botched putsch. Earlier, he said: "It is ridiculous, irresponsible and false to suggest I had anything to do with the horrific failed coup."
Turkey has formally requested the extradition of Gülen from the US and is convinced that it can be completed swiftly. "If you want to draw out the Gülen extradition issue it can take years but if you are decisive it can be completed in a short period," Turkish Foreign Minister Mevlut Cavusoglu said on Friday (22 July), according to Reuters.
But Washington has said Ankara must first provide evidence of Gülen's involvement in the coup and said the process could take years. The US has proposed a commission to discuss Gülen's extradition and Cavusoglu has said Turkey is willing to participate.