Indian home minister Rajnath Singh visits Kashmir after curfew lifts from 4 districts of the valley
Singh will spend his weekend in the valley meeting locals and officials.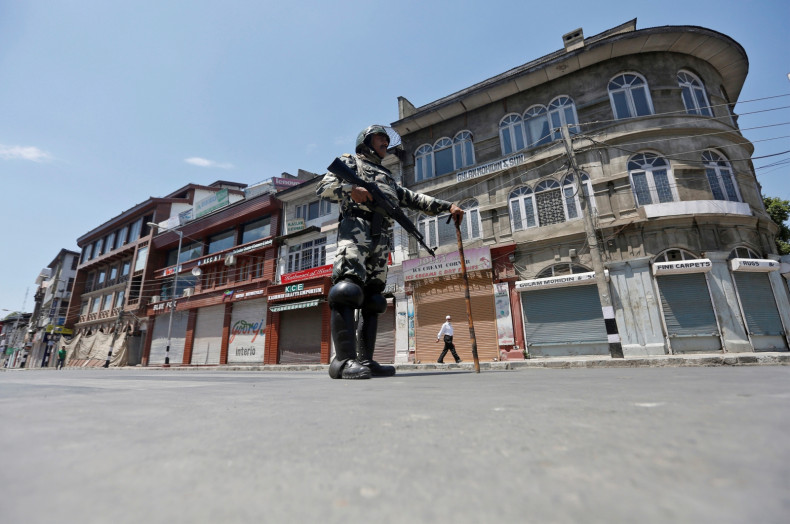 India's Home Minister Rajnath Singh on Saturday (23 July) arrived in Srinagar, the summer capital of the Indian state of Jammu and Kashmir, for a two-day visit to take stock of the ongoing law and order situation and find a way out of the current crisis in the state.
This comes after curfew was lifted from four districts of the state and parts of Srinagar city. Reports say the minister is going to spend his weekend in the valley meeting locals and holding meetings with the officials. Singh would also meet the political leaders and members from trade fraternity of the state.
The state has been facing crisis from early July after Burhan Wani, a terrorist associated the Hizbul Mujahideen, was killed in an encounter with security forces on 8 July.
Although, the curfew has been lifted from Bandipora, Baramulla, Budgam and Ganderbal districts, the assembly of four or more people under Section 144 Criminal Procedure Code (CrPC) is still prohibited in the four districts as a precautionary measure, a police official told news agency PTI.
He added that the curfew remained in force in Anantnag, Kulgam, Kupwara, Pulwama and Shopian districts of the Valley and eight police station areas of the city.
Yesterday (22 July) also, a fresh clash broke out between protestors and security forces in Kashmir claiming live of a youth.
Reportedly, at least 45 people have been killed and more than 3400 others have got injured since the state entered into the current logjam following Wani's killing.