African migrants 'devoured by sharks' while attempting to cross into Italy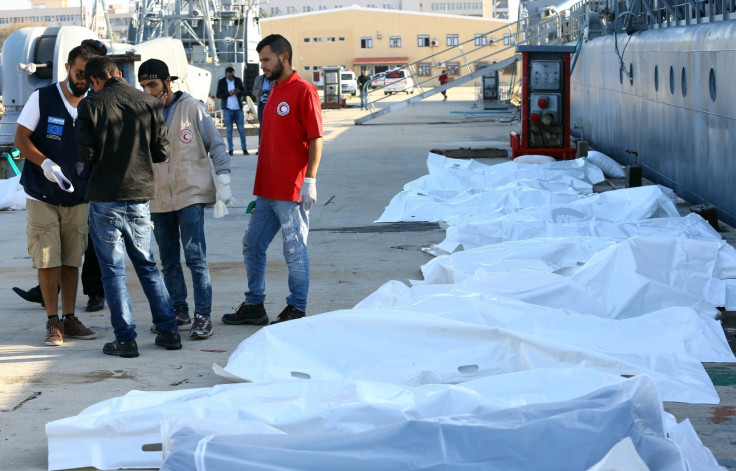 KEY POINTS
31 people dead and 40 missing after boats capsize in Mediterranean Sea.
Libyan Navy claim number of migrants killed in sea by sharks during rescue operation.
A number of migrants died after being attacked by sharks while attempting to cross into Italy from Africa, the Libyan Navy has claimed.
At least 31 people died - including three children - and more than 40 are missing after two boats attempting to cross into Europe via Libya sank. The coastguard conducted two rescue operations off the city of Garabulli, around 40 miles (60km) east of Tripoli, spokesman Colonel Abu Ajila Abdelbarri said.
The Libyan navy said that they managed to rescue 60 people from one of the boats and 140 from the second. Migrants from Somalia, Ghana, Ethiopia, Nigeria and Pakistan were among those that were rescued.
In a series of Facebook posts detailing the incident, the Navy added that "a number of bodies were devoured by sharks during the rescue".
Captain Nasser Al-Gammoudi told Italian newsapaper Il Giorno: "When we arrived in the area, off the town of Garabulli, [one] dinghy was semi-submerged and still had 44 people clinging on to it, whom we saved.
"There were lots of bodies all around and we saw there were four or five sharks swimming among them, large blue sharks, a very aggressive species. When we brought the bodies on board we noticed that some of them had been bitten, so it's possible that among the missing some may have been eaten."
However, the claims have bene dismissed by experts. Ezio Amato, a marine biologist, said that while white sharks and tiger sharks "have been known to attack lone swimmers" they have never been recorded attacking in large groups, reports The Times.
Italy's coastguard, which coordinates the rescue effort in international waters, reported that a total of 1,500 people had been rescued from the oceans in the two days before the 31 migrants died.
The 200 people rescued in the latest double operation brought back to a naval base in Tripoli and provided them with water, food and medical care.