African Strike for Freedom Asylum-Seekers March for Third Day in Tel Aviv
'We ask to be treated as human beings' Eritrean refugee tells IBTimes UK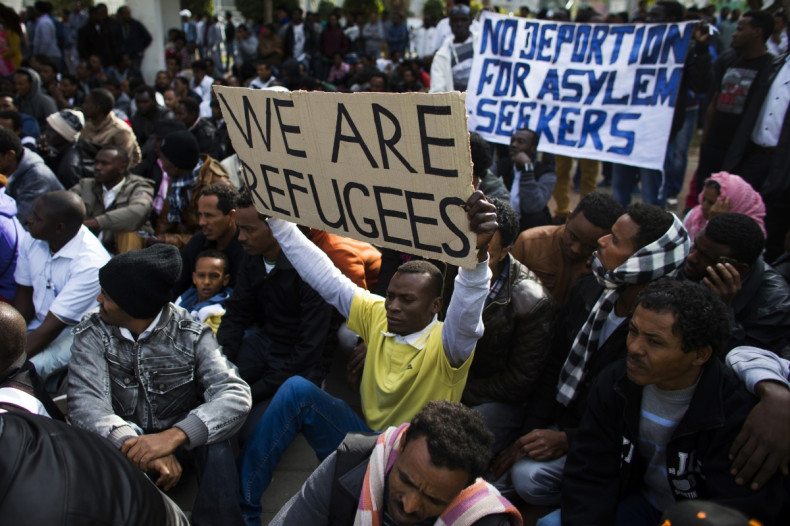 African refugees have marched for the third day in Tel Aviv in protest at the Israeli government asylum policy and have announced they will continue their "Strike for Freedom" until their demands are met.
Tens of thousands of Eritrean and Sudanese asylum seekers took to the street to demand changes to new government measures designed to restrict their movements and ability to work.
The legislation stipulates that those caught entering the country illegally could be jailed for up to a year, after which they are moved to a new detention facility.
Previous legislation, the Infiltration Law, allowed Israel to jail migrants for three years, pending a review of their refugee status, and set a 90-day deadline for detainees to be released.
It was overturned by the high court and replaced by a law that allows open-ended detention of migrants in a detention centre that can hold 400 people.
But the new Holot detention facility in the middle of the Negev desert in southern Israel is a de facto prison, according to Dawit Demoz, an Eritrean refugee who has organised the protest.
"Those prisons are not open. There's a roll call three times a day and after the last call the service is closed," he told IBTimes UK. "It is managed by prison authorities. We are calling the government to cancel the new open prison law and release all prisoners."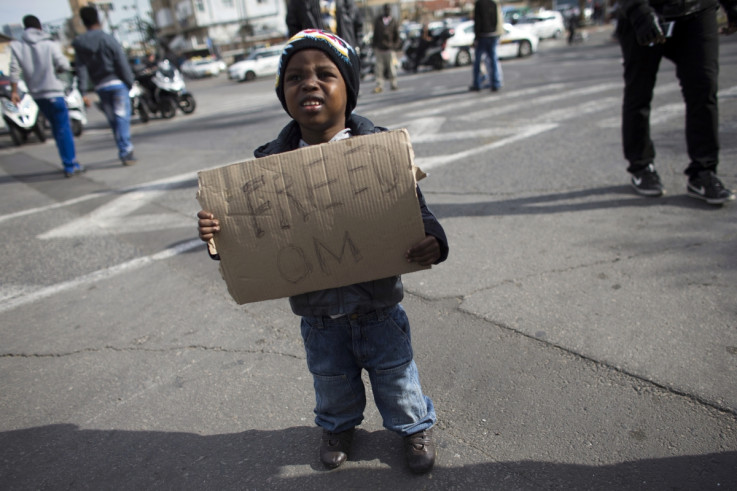 An African migrant boy holds a sign near Tel Aviv's Levinsky park on the third day of protests
Reuters
Israel regards its 50,000 Sudanese and Eritrean migrants as illegal job-seekers. Data published by the Population, Immigration and Border Authority showed that only four applicants have been granted refugee status in Israel in 2013 out of 2,593 applicants.
"We appeal to the government to check our asylum requests and assess them in a fair and transparent way," Demoz said. "In the current way the requests are simply rejected."
He cited Israel's refusal to accept the Eritrean indefinite military service as a reason to ask for asylum, a reason that is accepted by other countries. In Eritrean, compulsory national service for adult men and women – which should be limited to 18 months – is prolonged indefinitely and keeps most young Eritreans "in perpetual bondage", according to Human Rights Watch.
As a signatory to the United Nations Convention Relating to the Status of Refugees, Israel cannot deport asylum seekers if they face danger in their countries of origin.
"We ask the Israeli government to give us basic human rights such as the right to health service and education," Demoz said. "We would like to go back to our country but while the Eritrean dictatorship is in place this is just not possible for us. We ask to be treated as human beings."
He called on Israeli prime minister Benjamin Netanyahu to "make dialogue and find a solution for this problem".
"The protest showed Israel how united, strong and peaceful we are," he said.
The African asylum seekers said they planned to march to Jerusalem.