Syrian troops have discovered a mass grave containing the bodies of 42 people who were executed by the Islamic State (Isis) at the Roman ruins of Palmyra, state news agency Sana said on 1 April. The bodies included 24 civilians, three of which were children.
Speaking to AFP news agency, a source said that "officers, soldiers, members of the popular committees (pro-regime militia) and their relatives" were among those found in the grave. "They were executed either by beheading or by shooting," the source added.
The grave was found in Palmyra's north east section and some bodies bore marks of "brutal" torture on initial examinations, Sana reported. The world-renowned archaeological gem was retaken from Isis nearly a week ago after it had been under the militants' control for 10 months.
The bodies have been transported to a military hospital in Homs, located in west Syria. Some of the victims have been identified, according to reports.
The discovery of the mass grave was confirmed by the British-based Syrian Observatory for Human Rights. According to the group, Isis executed at least 280 people during its 10-month grip on Palmyra.
Operations to clear landmines planted by Isis before they were driven from the town are under way as of 2 April, with more than 3,000 explosives being dismantled so far, according to a Syrian officer. "They booby-trapped everything: trees, doors, animals," he said.
An Associated Press (AP) crew travelled to the historical site to gauge the level of destruction unleashed by the Islamist militants. While some aspects of the site remained relatively untouched, other parts of the priceless ruins were left utterly destroyed.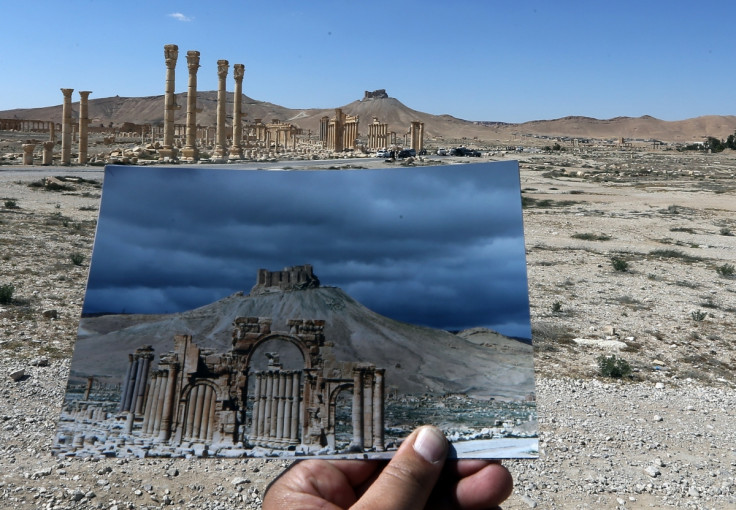 Isis destroyed the monumental Arch of Triumph in a video for the world to see. It also obliterated the Temple of Bel and vandalised other parts of the archaeological site. The slogan "lasting and expanding" was scrawled on a stone wall.
In retaking Palmyra, Syrian President Bashar al-Assad is hoping to show the West that the Syrian Army is a credible partner in the fight against terrorism. "The Syrian army is defending Rome and London in as much as it is defending Damascus," a Syrian officer told AP on condition of anonymity.