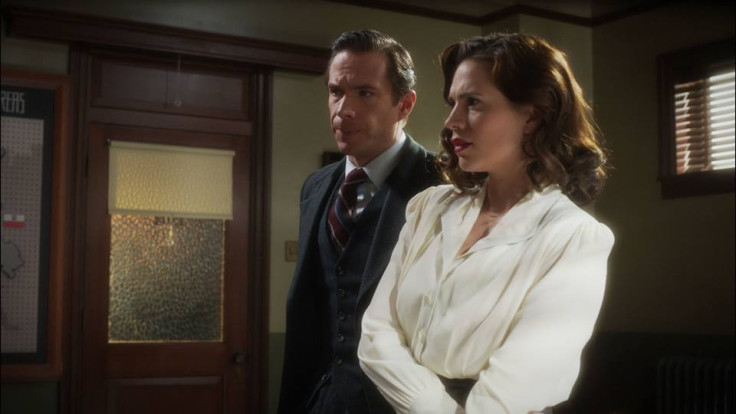 Marvel's Agent Carter season 2 kicks off with a two-hour premiere on Tuesday, 19 January, at 8pm EST on ABC. Peggy Carter will move to Los Angeles for a new dangerous assignment in the upcoming season. The Network has released the official synopsis and trailer for its upcoming season.
Here is the full synopsis:
The second season of Agent Carter will crossover with ABC's Dancing with the Stars. According to an Entertainment Weekly report, actress Lyndsy Fonseca will return as Angie Martinelli in season 2 with a big twist that involves a crossover with Dancing With the Stars in a dream sequence.
Executive producer Michele Fazekas told EW: "Episode 8 ends with a cliffhanger where Peggy and Jarvis [James D'Arcy] get in big trouble and are knocked out. Episode 9 begins with a dream sequence that starts in black and white — by the way, [Hayley Atwell] was made for black and white. She looks like Rita Hayworth. She looks spectacular."
The scene will lead to a full-on Broadway musical dance number which features an original song from lyricist David Zippel and composer Christopher Lennertz. Choreographed by Dancing with the Stars' Louis van Amstel, the sequence features a number of dancers from DWTS team, including Van Amstel, Dmitry Chaplin, Karina Smirnoff, Anna Trebunskaya, Sasha Farber and Damian Whitewood. Dancers Robert Roldan, Malene Ostergaard, Amanda Balen, Serge Onik, Jenya Shatilova, Lacey Escabar, Alla Kocherga and Paul Kirkland also join them.
According to Fazekas, Angie is basically the Jiminy Cricket in the episode. She said: "She's your conscience and she's speaking the things that Peggy maybe can't say to herself. It ties things back together from the first season and it's connecting all of these things in a way that only a dream can do."