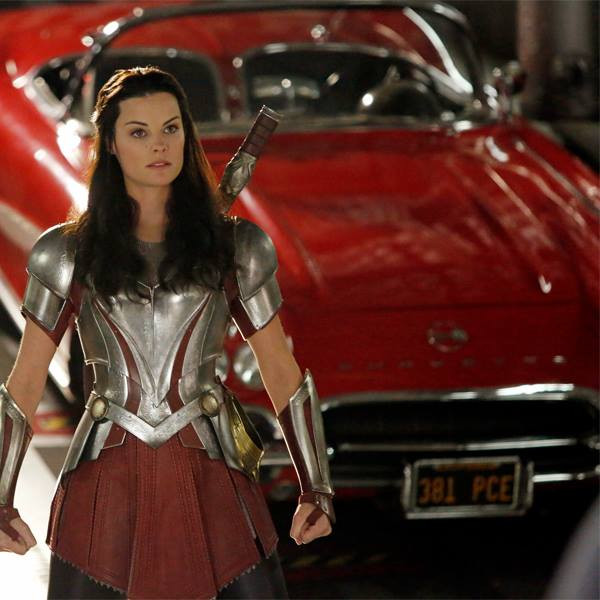 Friend of Thor, Lady Sif arrives on Earth to search the enchantress Lorelei, the villain from Asgard, who escaped after the Dark Elves invaded Asgard in Thor: The Dark World.
The iconic character from the movie Thor comes down to portray her role in Marvel's tale-series Agents of S.H.I.E.L.D. Jaimie Alexander, famously know as the Lady Sif in Thor, will enter earth to fight with Loralei, played by Elena Satine.
In the latest episode of Marvel's Agents of S.H.I.E.L.D, Lady Sif is on a mission to track and catch the seductress Lorelei to save the Coulson's team from the enchantress.
Lady Sif joins the S.H.I.E.L.D. team to imprison Lorelei and places a collar on her to prevent Lorelei from misusing her power to hypnotise men.
The episode 15 begins as the Sorceress Lorelei hypnotises her first victim as she arrives on earth and later succeeds in hypnotising Ward (Brett Dalton).
The S.H.I.E.L.D team heads toward Las Vegas to track down Lorelei and Ward while Coulson finds a source in Lady Sif to inquire about the strange blue creatures he found in the last episode T.A.H.I.T.I. but Sif's answers don't convince Culson.
In the final battle, Fitz (Iain de Caestecker) tries to fix the damaged collar, while the war Goddess Sif gets locked up by Fitz, who falls under Lorelei's spell.
May looks seemingly unhappy when Melinda reveals that she wasn't the actual love in Ward's life. Later, Lady Sif beats Lorelei and brings her back to Asgard, while Ward and May decides to end their relation.
The episode concludes with Coulson revealing to Skye that the source of the medicine that saved her was of the blue alien. The S.H.I.E.L.D chief later tells Skye to do what it takes to know about the GH325 and the alien.
The final scene of the episode shows May using an encrypted phone line to contact 'someone' to inform them that 'Coulson knows'.
Spoiler Alert
In the Next episode of Agents of S.H.I.E.L.D., viewers may see a new love equation between Skye and Ward. The final twist in the Episode 15 also suggests May might be the villain as she was seen calling someone to inform that 'Coulson knows'.