Ahmed Mohamed: 14-year-old Muslim student arrested for bringing homemade clock to school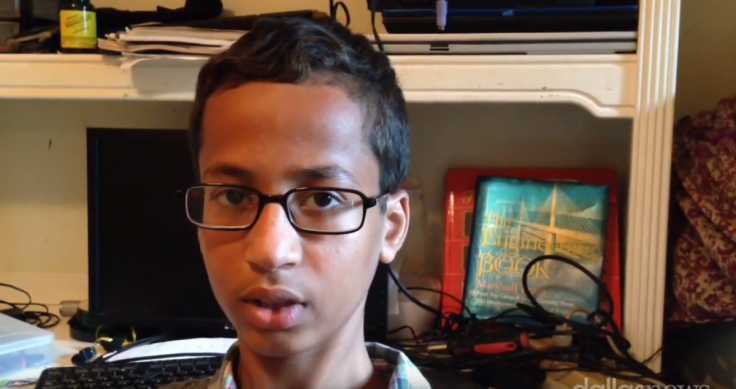 A teenager in Irving, Texas, was arrested after teachers thought his homemade clock looked like a bomb. Ahmed Mohamed, 14, made the clock – a circuit hologram case stuffed with circuits – and brought it to school on Monday (14 September) in an attempt to impress his engineering teacher. Later in the day Ahmed's creation was confiscated, the police were called and Ahmed was led away in handcuffs to a juvenile detention centre.
Dallas Morning News reported that one of Ahmed's teachers said it looked like a bomb, to which Ahmed responded: "It doesn't look like a bomb to me." Police told the local news agency that the teenager could be charged with making a hoax bomb, although Ahmed has insisted that his device is just a clock and that his passion is to "invent stuff".
Five police officers interrogated Ahmed after he was pulled out of class. Ahmed said that they searched through his belongings before he was transported to the juvenile detention centre, where his fingerprints and mugshots were taken. In a video interview with Dallas Morning News, Ahmed described the humiliating experience, saying: "It made me feel like I wasn't human. It made me feel like a criminal."
Daniel Cummings, principal of MacArthur High School, wrote a letter to the students' parents, stating: "We want you to be aware that the Irving Police Department responded to a suspicious-looking item on campus yesterday. We are pleased to report that after the police department's assessment, the item discovered at school did not pose a threat to your child's safety." Cummings went on to recommend that parents should talk with their children "about the Student Code of Conduct and specifically not bringing items to school that are prohibited".
Ahmed is currently serving a three-day suspension from school as many have come out supporting his innocence, with the hashtag #IStandWithAhmed generating sympathetic comments from around the world.
Hilary Clinton was also among those to join in the support on Twitter:
© Copyright IBTimes 2023. All rights reserved.