Ahmed Mohamed: 'Clock boy' seeks $15m in reparations from city and school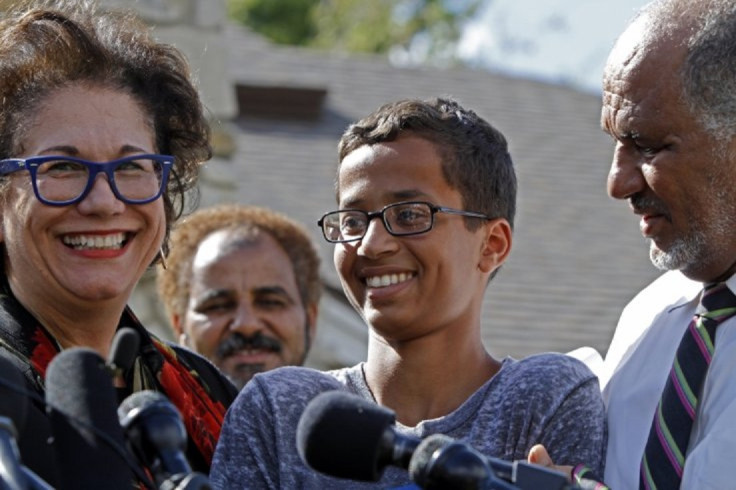 A 14-year-old boy who was arrested and suspended for bringing a homemade clock into school is seeking compensation to the tune of $15m (£10m) from his school and his city. Ahmed Mohamed was arrested by police and then suspended from school in Irving, Texas, when his teacher mistakenly thought the clock was a bomb.
The arrest, on 14 September, sparked worldwide outrage. He has since met Barack Obama the Google co-founder Sergey Brin and officials from Turkey, Sudan and Jordan whilst being praised by Facebook founder Mark Zuckerberg. The Mohamed family announced in October that they will move to Doha so Ahmed could study with the Qatar Foundation under its Young Innovators Program.
The family's solicitor said in a letter that the incident had left Ahmed deeply traumatised. His lawyers are asking for $10m (£7m) from the city of Irving and $5m (£3.3m) from the Irving Independent School District which his school, MacArthur High School, governs.
If the school and the city do not pay up lawyers can file a civil action within 60 days, they said. They also seek an apology from both parties as Ahmed has said he has received threatening emails and feared for his safety, causing "severe psychological trauma".
"Irving Police officials immediately determined that the clock was harmless. The only reason for the overreaction was that the responsible adults involved irrationally assumed that Ahmed was dangerous because of his race, national origin and religion," the lawyers wrote in a letter to the City of Irving, according to the BBC.
Daniel Cummings, principal of MacArthur High School, wrote a letter to the students' parents, at the time stating: "We want you to be aware that the Irving Police Department responded to a suspicious-looking item on campus yesterday. We are pleased to report that after the police department's assessment, the item discovered at school did not pose a threat to your child's safety."
The incident has raised questions about anti-Islam sentiment in the US, and Ahmed was even mentioned during a Republican presidential debate. Ahmed said it was "very sad" that his teacher thought his clock was a threat.
© Copyright IBTimes 2023. All rights reserved.