Ahmed Mohamed: Muslim clock boy withdraws from MacArthur High School where he was arrested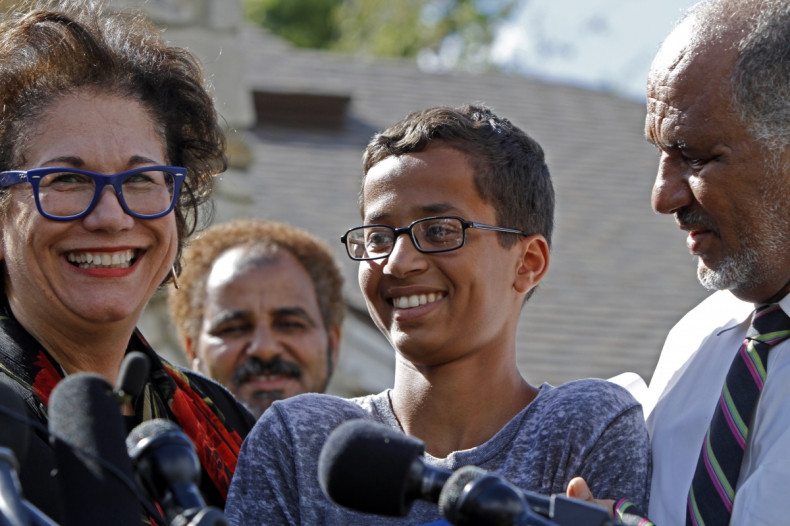 A Texan student whose homemade clock was mistaken for a bomb has been withdrawn from school by his family in the aftermath of the incident. Ahmed Mohamed's father, Mohamed El-Hassan Mohamed, said he has pulled all of his children out of schools in the Irving independent school district in Dallas and is still deciding where they should be educated.
Ahmed Mohamed was arrested last week (14 September) after he brought the clock to school in a bid to impress his engineering teacher, only to receive a polar opposite reaction from another teacher who thought the device resembled a bomb. The 14 year old's creation was confiscated and he was led away in handcuffs to a juvenile detention centre. Although he was not charged, Ahmed was suspended from school for three days.
"Ahmed said: 'I don't want to go to MacArthur,'" Mr Mohamed told the Dallas Morning News. "These kids aren't going to be happy there." He added that his son has been adversely affected by the case and has lost his appetite and is not sleeping well.
"It's torn the family [apart] and makes us very confused," he said.
Having received swift and overwhelming public support from the likes of Barack Obama, Mark Zuckerberg, Hillary Clinton and others, Ahmed has also been offered a place at a number of schools as well as invitations to Google and Facebook's headquarters. Mr Mohamed said he wanted to give his son a break before taking any decision.
Yesterday (21 September), Ahmed attended Google's fifth Science Fair at the company's Mountain View campus in California, where 20 finalists from all corners of the globe presented projects that mainly focused on the environment and health.
Ahmed's father said the entire family plans to fly to New York on 23 September, where UN officials want to meet his son. He went on to say that if the appropriate visas can be obtained, he would like to take Ahmed on a pilgrimage to the holy city of Mecca.
Upon their return, Ahmed is scheduled to meet with President Obama, who invited the young creator to the White House in the aftermath of the furore. The leader sent a tweet saying: "Cool clock, Ahmed. Want to bring it to the White House? We should inspire more kids like you to like science. It's what makes America great."