AirAsia flight QZ8501: Plane's tail recovered from seabed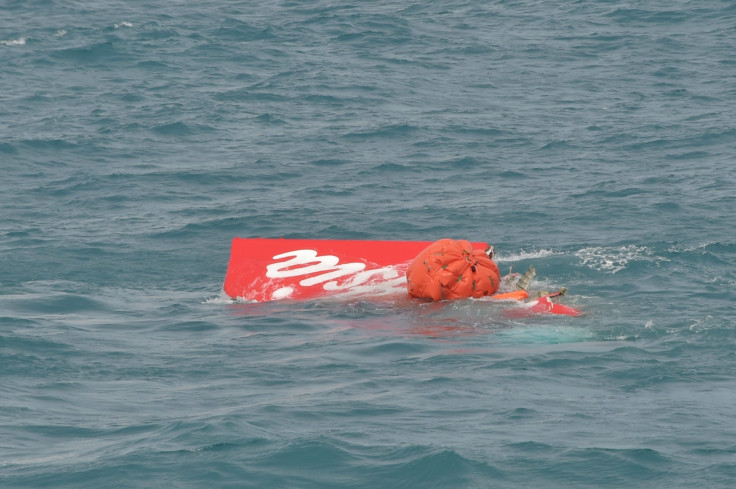 The tail section of crashed AirAsia flight QZ8501 has been pulled from the sea.
It was located underwater on Wednesday (7 January) in a potential breakthrough in the search for the plane's black box, which could provide vital information about why the jet came down.
The tail was found in the seabed 30m (100 feet) below the surface and was lifted on to a ship using giant floating balloons and a crane.
Navy spokesman Manahan Simorangkir said: "We have lifted the tail on to the ship. It's red and white and a big part of the AirAsia logo can be seen."
Pings from the boxes, which are normally located in the tail section, were detected on Friday, but at a location away from where the tail fin was found.
SB Supriyadi, a director with the National Search and Rescue Agency, said they have probably been dislodged.
"Last night, our divers had opened the door of the tail cabin, searched around but found nothing," said Mr Supriyadi. "But the boat above detected faint ping sounds believed to be from the black boxes about one mile (1.6km) southeast of the tail... and covered in mud."
"There's a team examining the tail again to see if the black boxes are not there," he explained. "But the chances they might find anything there are slim. We still strongly believe that the black boxes are in the sea and our divers are still searching for them."
The Airbus jet went missing in stormy weather on 28 December as it flew from the Indonesian city of Surabaya to Singapore. It is believed that severe weather conditions and ice damage to the engines of the Airbus A320-200 were a factor in the tragedy which left 162 passengers and crew dead.
Before take-off, the plane's pilot, Captain Iriyanto, had asked for permission to fly at a higher altitude to avoid a major storm.
The request was not approved due to other planes flying above him, according to Indonesia's air traffic control.
Two weeks after the crash, the search is continuing for other parts of the plane's wreckage, and bodies of the passengers and crew. Only 48 bodies have been found so far, as the recovery operation is impeded by adverse weather conditions.
© Copyright IBTimes 2023. All rights reserved.