Airbnb: US landlords raking in millions by turning properties into illegal hotels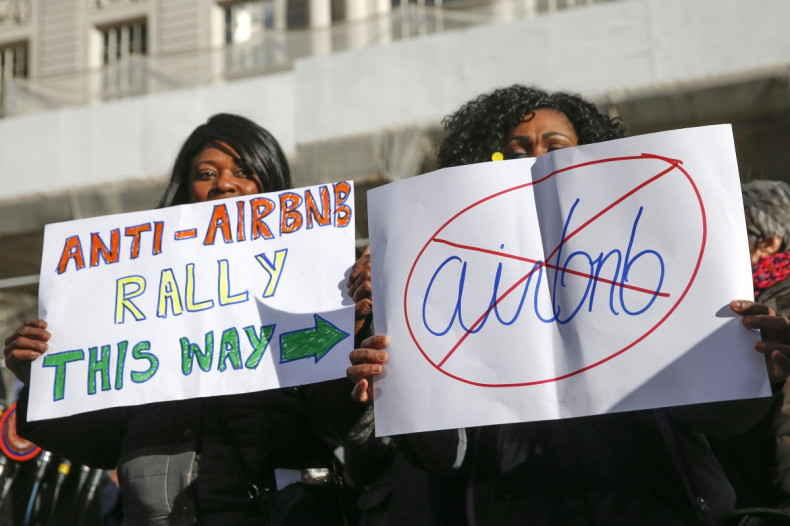 A number of US landlords using Airbnb are raking in millions of dollars by turning their properties into illegal hotels and essentially using them for full-time, short-term lets, according to a report by Penn State University's School of Hospitality Management.
The study found that in San Francisco, 308 full-time hosts of the spare room accommodation online marketplace who offer short-term lets all year round made $44m (£31m) between September 2014 and September 2015. Meanwhile, 1,600 landlords who rented out two or more properties for short-term lets made $62m.
By looking at the 12 US cities included in the study, the researchers found a total of 2,675 landlords operating full-time short lets, with them making a total of $378,173,374 in revenue during the time period studied.
Landlords who operate more than one property accounted for almost 40% ($500m) of the total revenue of $1.3bn that was generated by all the lets on Airbnb in the 12 cities. The researchers also found that the most popular cities in the US for Airbnb lets were Miami, New York, Los Angeles and San Francisco.
Alarming trend in landlords renting out multiple properties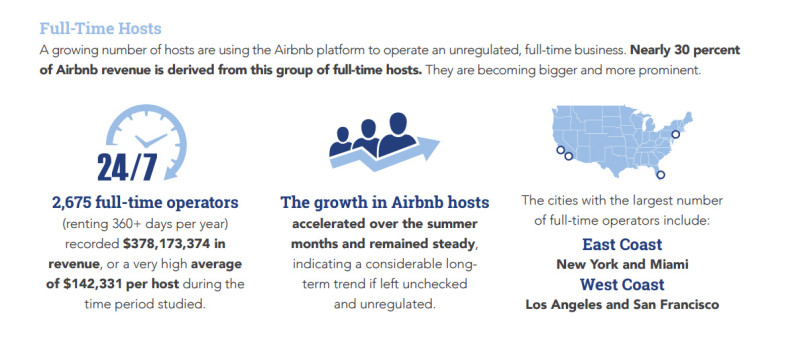 "This report represents the first comprehensive look at the commercial activity being conducted on Airbnb. By analysing hundreds of thousands of data points, the report reveals an alarming trend with respect to two overlapping groups of hosts, multiple-unit operators who are renting out two or more units, and full-time operators who are renting their unit(s) 360 or more days per year. These two subsets of operators are generating a substantial amount of Airbnb's revenue," the researchers wrote.
"Airbnb host revenue has increased significantly. The total 12-city sample shows that monthly host revenue increased from $78.1m for the month of September 2014 to $124.3m in September 2015, representing a 59.2% increase."
In many US cities, renting out a property for fewer than 30 days has long been illegal, although Airbnb has stepped up lobbying in various states to fight restrictive short-term rental regulations. In San Francisco, the firm has been successful, as the City and County of San Francisco eventually amended the law, so that from 1 February 2015, residents were allowed to apply to join a registry where they could offer part or all of their property up for rent for fewer than 30 nights, as long as they submitted quarterly reports to the council to review.
However, the report states that if landlords keep offering short lets throughout the year, then they are essentially running a full-time business that is not being regulated.
Residents unhappy but short lets not restricted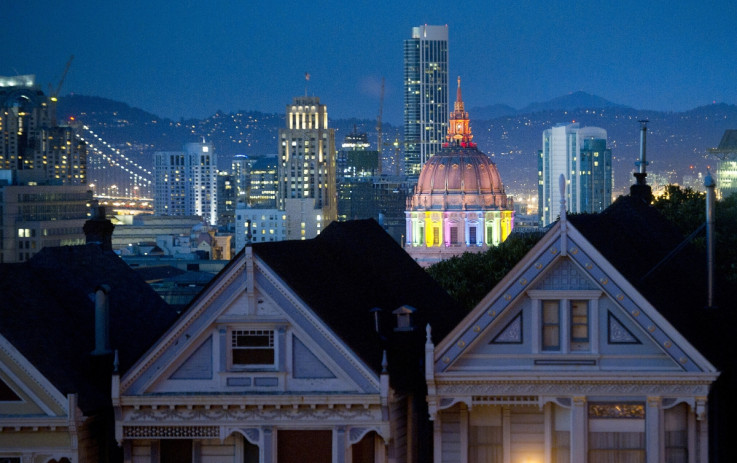 Many residents claim Airbnb has led to an affordable housing crisis in San Francisco, and that privacy and noise pollution are a problem
Reuters
Despite the benefits that the Airbnb programme has brought to San Francisco, many residents remain critical. The service has been accused of contributing to the city's housing crisis, where landlords kick out residents to make way for tourists, as well as an increase in tenants converting properties they have rented into hotels without the landlord's approval, and an increase in concerns about noise, privacy and security.
And although San Francisco residents campaigned heavily against Airbnb in 2015, which led to the Proposition F Bill being proposed, in November 2015 the bill was defeated, meaning no new legislation was introduced to curb any such rentals.
Airbnb has disputed the Penn State University report, especially the claim about corporate landlords operating multiple properties for the purpose of running a commercial business.
Airbnb claims families make up majority of landlords
"This report uses misleading data to make false claims and attack middle class families who share their homes and use the money they earn to pay the bills," Airbnb spokesperson Nick Papas told the San Francisco Examiner.
"The overwhelming majority of Airbnb hosts are middle class people who occasionally share only the home in which they live and while Airbnb hosts keep 97% of the price they charge for their listings, hotels take most of the money they earn out of the community."
Airbnb has also been criticised in other counties. In Israel, the firm was condemned for "illegally" listing rooms to rent in the occupied West Bank settlements, while in the UK, the British Hospitality Association (BHA) wants the government to introduce regulations to restrict any home exchange lets that go beyond 90 days, and to make sure that such lets meet the standards of the tourism and hospitality industry.