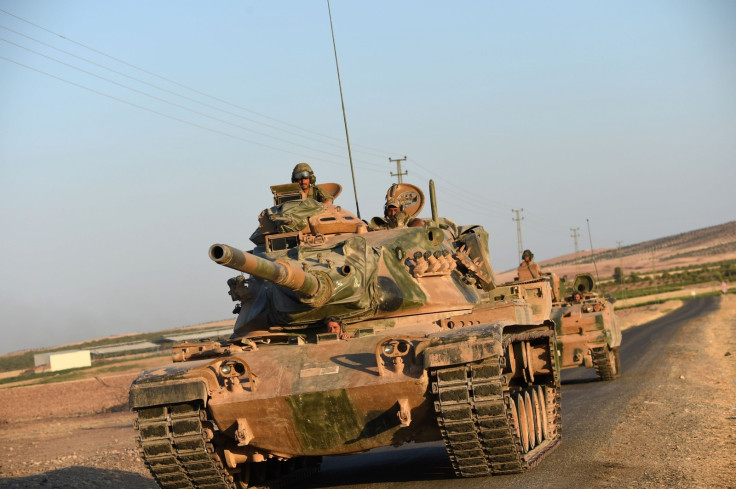 The Turkish military has said three of its troops have died following Syrian government air strikes in northern Syria. It is the first time troops from Turkey have been killed by Assad forces since Ankara entered the ground war in Syria in August.
Ten other Turkish soldiers were wounded in the air strikes that occurred at 3:30am local time (12:30am BST), Reuters news agency reported. In a statement the Turkish military said they were evacuated from the area.
Turkish troops are fighting alongside a US-backed coalition working to drive the Islamic State (Isis) from its strongholds in Syria. However, Kurdish forces from the People's Protection Units (YPG) have accused Turkey of sending in ground troops to check Kurdish gains in Syria, along Turkey's southern border.
Ankara's operation in Syria has advanced as far south as the city of al-Bab where in the last 24 hours three more Turkish soldiers were killed in an Isis attack. The militant group's propaganda outlet Amaq, which styles itself as a news agency, claimed the troops were killed in an army tank that was hit by an anti-tank guided missile (ATGM) fired from Isis lines
Skirmishes between Turkish forces and Kurdish troops fighting under the auspices of the Syrian Democratic forces have continued, with reports on social media of fighting in Qurt Wiran village.
All the of the forces, which receive backing from the United States and the anti-Isis coalition of more than 60 nations, are engaged in Operation Euphrates Rage, an offensive to retake the Islamic State stronghold of Raqqa, the de-facto capital of the militant group's territories in the Levant.
In July, Ankara signalled it wished to normalise relations with the Syrian government in Damascus after five years of demanding Assad step down. The shift in Turkish policy followed a rapprochement between Turkey and Russia, Assad's most powerful backer, after the Turkish military shot down a Russian Su-24 over its airspace in November 2015.