At least 20 civilians, including six women and one child, are reported to have died in a US-led coalition air strike on the village of al-Heisha, close to Raqqa in Syria. A coalition spokesman confirmed air strikes had taken place in the area, said to be an Islamic State (Isis) stronghold, but said there was no confirmation that civilians had been killed in the air strikes as yet.
The first reports of the incident came from a group called Raqqa is Being Slaughtered Silently, which is an anti-Isis group releasing information about the city at great personal risk. The UK-based Syrian Observatory for Human Rights echoed the claims, saying civilians 20 were killed and 30 wounded in the attack on al-Heisha.
In a statement, the coalition said: "Near Ayn Isa, seven strikes engaged six ISIL [Isis] tactical units and destroyed three fighting positions, a vehicle, and a VBIED facility." Ayn Isa is 14km (9 miles) west of al-Heisha and 40km (25 miles) north of Raqqa.
Coalition spokesman Col John Dorrian told AFP: "More specific information is needed to conclusively determine responsibility" for the alleged civilian casualties," as quoted by the BBC.
Al-Heisha is believed to be controlled by Isis and is being targeted by the US-backed Syrian Democratic Forces (SDF) which dismissed the claims of civilian casualties as "IS news."
The SDF said at least six Isis fighters had been killed in the raids and that the fanatics were using civilians as human shields. The Pentagon admits 119 civilians have been killed in Syria and Iraq since 2014, though monitoring groups believe this is an under-estimate.
The SDF, composed mostly of Syrian Kurds, are committing 30,000 fighters to the offensive to retake Raqqa, which would be a devastating blow to Isis.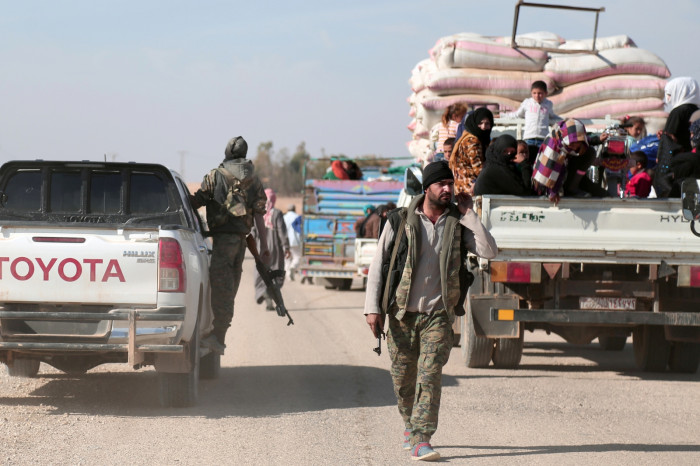 The loss of Raqqa would also mean no escape for Jihadists trying to flee Mosul in Iraq, where Isis is being attacked from all sides. Isis leader Abu Bakr al-Baghdadi is making plans to appoint a successor if he is killed, according to reports.