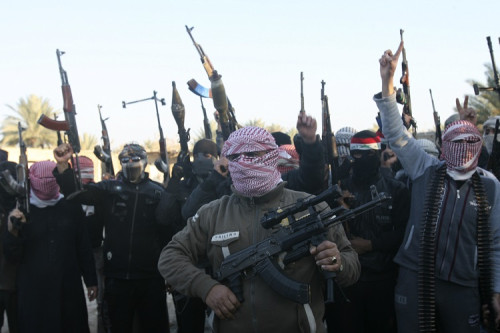 Oil industry analysts have voiced concern that al-Qaida violence in the troubled Anbar province may cause pipelines and other facilities' security issues, which are concentrated in the northeast and southeast of the country.
While Iraq's oil industry and its foreign investors try to calm market participants by highlighting that Anbar province is far away from the main oilfields, analysts have become cautious over longer-term risks.
"The situation in Anbar will have no direct impact on oil operations in southern provinces, where the violence is unlikely to spread," said Sam Wilkin of the Control Risks consultancy.
"But there are concerns about the northern Iraq-Turkey pipeline, which has been sabotaged repeatedly, if the unrest spreads to provinces such as Nineveh and Salahaddin."
Analysts at Eurasia Group added: "Over the next year, a rise in violence is unlikely to materially impact oil production and exports from southern Iraq.
"Deteriorating security conditions in central and western Iraq are hundreds of kilometres away from oil facilities around the Basra region, where the bulk of Iraq's oil is produced and where support for the political order is robust."
Long Term Security Issues
Tens of thousands of people have fled Fallujah after the Iraqi prime minister said that security forces were ready to oust al-Qaida-linked insurgents who had overrun the city.
The Iraqi Red Crescent said 13,000 families had fled the predominantly Sunni town 70km (43 miles) west of Baghdad in fear of their lives.
Gunmen with al-Qaida's local affiliates, the Islamic State of Iraq and Levante (known as Isis or Isil) took control of Fallujah and parts of the nearby city of Ramadi last week.
Iraq is aiming to confirm its second place position in the top ranking of Organisation of the Petroleum Exporting Countries (Opec) with a planned biggest annual rise in oil exports in 2014.
However independent analysts have widely dismissed the Iraqi government's official export target, of 3.4 million barrels per day (b/d) for 2014, as pure fiction and instead has forecasted a more feasible target of 2.8 million b/d.
"Iraq has the potential for record growth this year," said a senior executive involved in a major oilfield project near the southern oil hub city of Basra, quoted by Reuters.
"But I'm quite uneasy about the deteriorating security situation."
In 2013, Iraqi oil production was flat on the previous year with around 3 million b/d.
Meanwhile, West Texas Intermediate (WTI) crude rebounded from the lowest price in six weeks after traders speculated that recent losses may have been too excessive.
"Oil has been falling, so technically it's due for an oversold bounce," said Gordon Kwan, the regional head of oil and gas research at Nomura Holdings, in Hong Kong.
WTI for February delivery rose by 52 cents to $92.84 per barrel in electronic trading on the New York Mercantile Exchange.