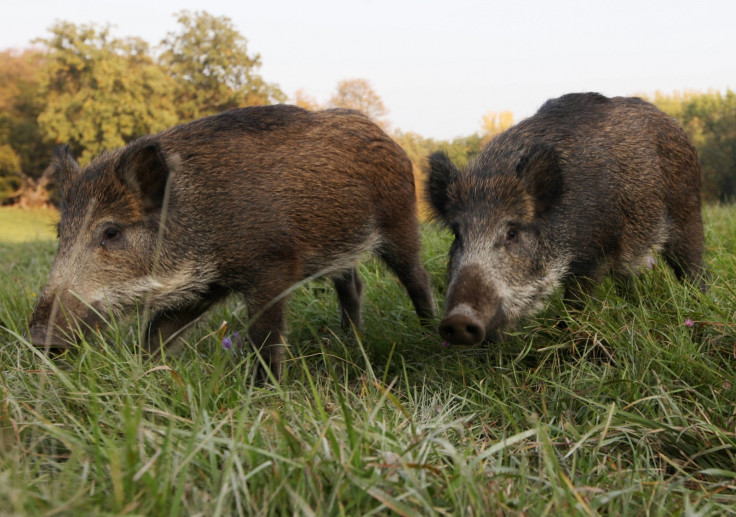 Wade Seago of Alabama had seen wild hogs before, but not quite as big as the 820-pound (372kg) animal he shot and killed in his front yard last week. The Samson taxidermist plans to display the hog's head and shoulders at his shop.
Seago told Alabama's al.com that he and his daughter saw the massive animal in their yard after their dog, a schnauzer called Cruiser, began barking. "Cruiser had this huge hog confused with all the barking and movement," he said. "It was not a good situation."
He then grabbed his .38-caliber handgun and shot at the hog. Seago said it took three shots to kill the massive animal, which weighed 372kg (820lbs).
"I didn't really have time to think about it," Seago told the BBC. "I was confronted by an animal threatening my dog that looked like something out of a horror film."
He said he does not have any regrets about killing the hog, which had 6 inch-long tusklike teeth. "I didn't think twice about taking down this hog," he added. "I'd do it again tomorrow."
According to the BBC, Seago lives on a 100-acre property, which has its fair share of wildlife, including deer and raccoons.
Seago is a taxidermist in the southern Alabama town of Samson. He told the Associated Press that he plans to display the hog's stuffed head and shoulders. The rest of the animals remains were discarded on a friend's property, he said.
"It's so humid down here, it had to hang all night. I wouldn't trust the meat," he said.
Feral hogs cause millions of dollars of damage in a number of southern US states by damaging crops and are believed to infect livestock. Under Alabama law, hunters on private land are allowed to kill as many of them as they want, CBS News reported