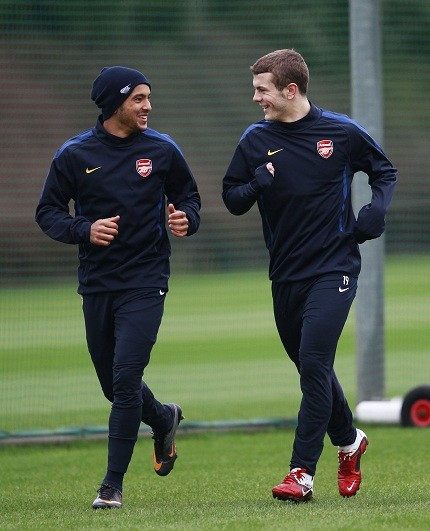 Despite the recent saturation of talented English youngsters in the Premier League this season, Liverpool legend Alan Hansen believes Arsenal starlet Jack Wilshere is the only one deserving of a starting role at next summer's European Championships.
This season has seen Manchester United's Tom Cleverley, Chris Smalling, Phil Jones and Danny Welbeck all thrive at Old Trafford, as the evergreen Sir Alex Ferguson endeavours to integrate yet another batch of promising youngsters into his side. Likewise, Chelsea's Daniel Sturridge, Liverpool's Martin Kelly, Tottenham's Kyle Walker and Everton's Jack Rodwell have all enjoyed the exposure that comes with regular first team football.
All of the aforementioned have been named in various England squads this season, but despite the encouraging influx of home-grown players, Hansen suggests one of them is head-and-shoulders above the rest.
Jack Wilshere is yet to feature for Arsenal in the Premier League this season due to the ankle injury he sustained against the New York Red Bulls during the Emirates Cup in the summer, but such is the impact the prodigiously gifted 19-year-old made for club and country last season, Hansen believes the midfielder is the "standout player" of his talented generation.
The respected Match of the Day pundit, who won eight league titles during his glittering Anfield career, believes Wilshere is already good enough to start next summer's tournament in Poland and the Ukraine and play a crucial role for Fabio Capello's much maligned side.
Wilshere made his full England debut in February of this year, when Fabio Capello selected the Premier League starlet as a defensive midfielder. Despite an impressive display, Hansen believes Wilshere's talents would be better utilised in a position where his obvious skills can hurt the opposition.
Citing the youngster's unnerving ability to retain possession in the final third, best illustrated by Wilshere's stunningly mature performance against Barcelona last season, when he more than matched the vaunted skills of Andres Iniesta and Xavi Hernandez, the footballer turned pundit suggests Wilshere could enhance England's credentials if played in a similar position under Capello.
"Of all the youngsters challenging for a place in Fabio Capello's euro 2012 squad, Jack Wilshere is the standout player and, if he is fit, he has to go to the Finals." Hansen told The Daily Telegraph.
"He has the ability, the technique and, crucially, he will always be in Arsene Wenger's best XI at Arsenal when he is available.
"Where do you play him? I wouldn't have him in the holding role because his best position is further forward, where he can produce a killer pass.
"Possession is king at the highest level of the game, but England have always fallen down when it comes to the ability to keep the ball. Wilshere is extremely comfortable in that area, however."
Last season's PFA Young Player of the Year recently confirmed he was making steady progress in his frustrating efforts to return to first team football.
"It's going really slow at the minute and obviously I'm really frustrated," He told iFilm London.
"I should be back in training by mid-December, then I can crack on and it's up to the boss when he picks me.
"It's massively frustrating, especially after last year when we were so close to winning a trophy.
"We beat Barcelona at home and everything seemed to be going well and it ended sadly.
"I was looking forward to this season, I really thought we could push on and do something. To get a setback is massively frustrating but I'll be back in December and hopefully we can push on from then."