Whatever happens next, Roberto Mancini has already changed the nature of the Premier League. Cynics will claim the laurels properly belong to Manchester City's owner Sheikh Mansour that this title has been bought by his investment in the club. But by taking City to the verge of Premier League glory, Liverpool legend Alan Hansen believes Mancini has demonstrated City's vision extends beyond short-term gains.
For many City fans, their title challenge looked to be over on 8 April, as United moved eight points clear at the top of the table following City's 1-0 defeat at Arsenal. With just six matches to play United, who trailed City for much of the season until going top in March, looked set to comfortably defend their Premier League crown.
But a remarkable turnaround in fortunes saw Manchester United lose at Wigan before relinquishing a 4-2 lead against Everton to draw 4-4, while City strung together a five match unbeaten run - including a 1-0 victory against United - to overhaul their neighbours at the top. And former Liverpool defender Hansen insists the City coach deserves to be recognised as one of the Premier League's top managers, should City get the required result on the final day.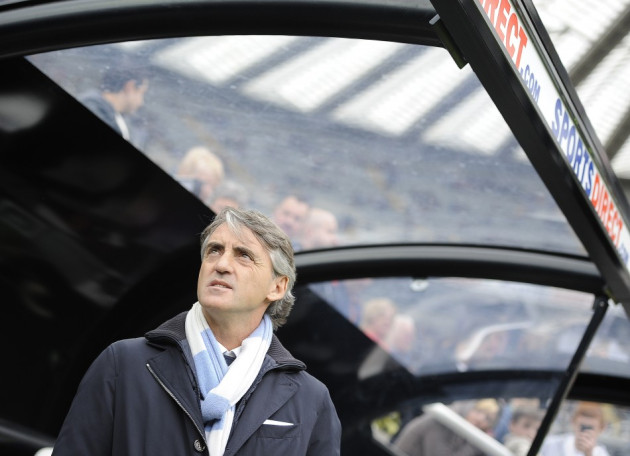 City now face Mark Hughes' Queens Park Rangers side on the final day of the season and if they can match or better Manchester United's result at Sunderland, they will win the English title for the first time since 1968.
"Roberto Mancini will elevate his managerial status by claiming the Premier League title, deservedly taking his place among a select group of elite coaches," Hansen told the Telegraph.
"It is a remarkable fact only six managers have won the title in the last 20 years; the Italian can now sit proudly alongside Sir Alex Ferguson, Arsene Wenger, Jose Mourinho, Carlo Ancelotti and Kenny Dalglish. Anyone who oversees such an achievement deserves to be in such esteemed company.
"Should Manchester City defeat QPR next weekend, as everyone anticipates, Mancini will also have succeeded in a unique way. If a guide is ever written for the most unconventional means of winning a championship, the Manchester City manager will be the author."
City have outplayed and outgunned Manchester United over the course of a turbulent campaign, beating their rivals, home and away, with an aggregate scoreline of 7-1. Lesser sides have found St. James' Park an inhospitable venue this season, but to go to Newcastle and win by two goals was as clear an indication as any of City's title form.
"What is scary for the rest of the Premier League is victory over QPR next weekend will be the platform for ten years' of domination by the blue half of Manchester," said Hansen, who won eight league titles during his time at Liverpool. "Having secured the first elusive title, they have the resources to keep building, attracting the world's best players and going from strength to strength.
"When Chelsea won the title in 2005, there was a feeling of a shift in English football. United proved they could never be written off by winning another three consecutive titles, but they're up against even more financial muscle with their neighbours and they may have to get used to feeling second best in their own city.
"Mancini himself will feel more secure at The Etihad Stadium, any suggestion of him being replaced removed for the foreseeable future, and he'll have even more confidence to run the club in his way with a league title behind him. "I still believe he'll have more to prove at the start of next season."
The ex-Liverpool star added: "There is merit to the argument which states the first title is tough, but the second one is even harder.
"Football history, however, is written by winners, and Mancini is on the threshold of proving what City argued all along. That's exactly what he is."